Get to know the World Food Programme2020 Nobel Peace Prize Laureate
We are the world's largest humanitarian organization, working to save and change the lives of 100 million people in 88 countries.
WFP is among the first on the scene in an emergency, providing food and other assistance to the victims of conflict, drought, floods, earthquakes, hurricanes and crop failures, as well as pandemics such as the current global outbreak of COVID-19. At the same time, we keep a sharp focus on sustainable development, providing governments with the support and skills to manage food security in the long term.
Here's what you need to know about WFP
6 things you should know about WFP
As the UN World Food Programme gets this year's Nobel Peace Prize, here's what you need to know about the largest organization fighting hunger.
Hunger facts
The three worst food crises at the moment are in countries affected by conflict: Afghanistan, the Democratic Republic of Congo and Yemen.
As the world stands on the brink of a hunger pandemic, with the impact of coronavirus threatening to double the number of hungry people, those living in conflict-affected areas are suffering the most.

What does hunger have to do with peace?
This year, WFP was awarded the Nobel Peace Prize "for its efforts to combat hunger, for its contribution to bettering conditions for peace in conflict-affected areas and for acting as a driving force in efforts to prevent the use of hunger as a weapon of war".
WFP has been working on the frontlines of emergencies for more than 50 years, bringing hope to millions caught in conflict. Many of the people we help are fleeing violence, leaving their whole lives behind. Read more about our work.
The link between hunger and conflict is a vicious circle. Where there is conflict, there is hunger. And where there is hunger, there is often conflict.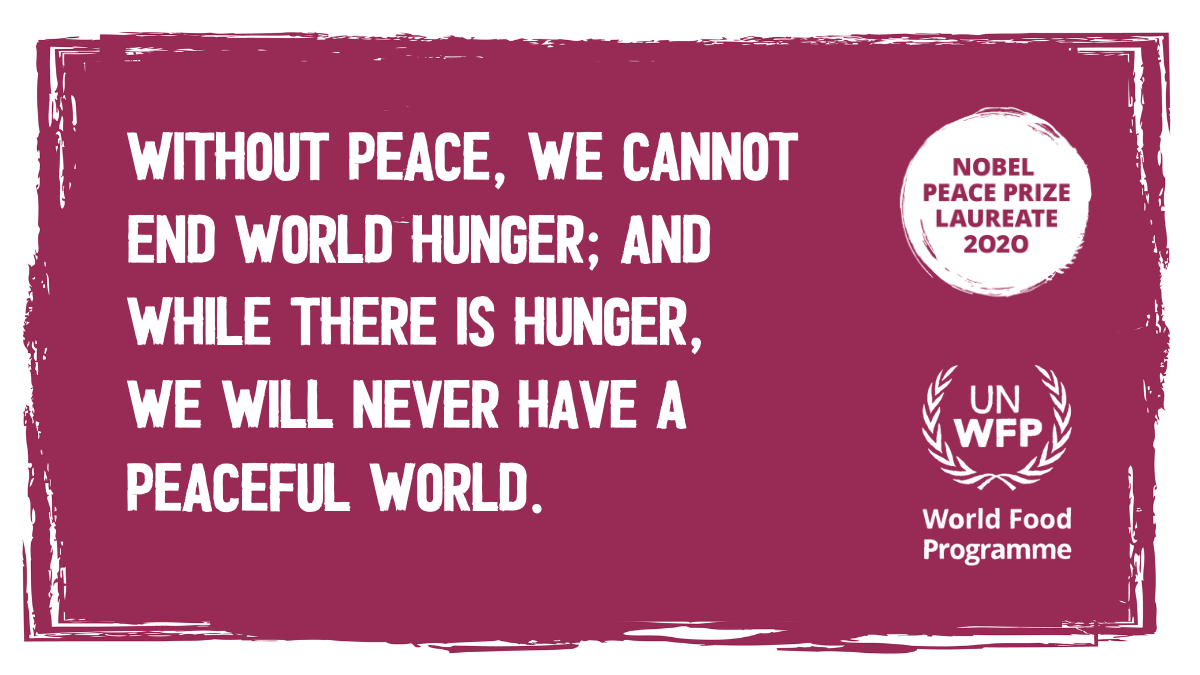 When fighting drives large numbers of people from their homes, their land and their jobs, they are more likely to go hungry. But the opposite is also true. Food shortages can fan the flames of social tensions and fuel injustices, which may ultimately trigger or exacerbate conflicts.
Worse still, despite its prohibition under international humanitarian law, the use of starvation as a weapon of war is still widespread.
Food security, peace and stability go together. Without peace, we cannot end world hunger; and while there is hunger, we will never have a peaceful world.
WFP uses food to build peace
| | |
| --- | --- |
| | WFP works where the world's poorest, most vulnerable people live. We believe that food can be a cornerstone for peace. When children receive regular meals in school, when women and men receive food in exchange for their work on community projects, when social safety nets ensure that the poor and elderly know where their next meal is coming from, communities are more resilient and less likely to escalate into conflict. |
| | WFP saves lives by bringing food to people who might otherwise starve. When governments are weak or corrupt, when people are at the mercy of armed groups, WFP's presence provides hope, and our food assistance is a lifeline for families caught up in conflict. Providing food at a community level also removes one of the major sources of friction among the hungry, building bridges and helping communities to build peace. |
| | When conflict ends, WFP stays to help people back onto their feet and help communities build back stronger with resilience programmes. 40-60% of countries coming out of conflict will relapse into fighting within ten years. WFP works with governments to strengthen systems of stability and supports people as they reconstruct their communities. |
The people we serve 
WFP recognises that one of the greatest contributions we can make to humanity is to provide a voice to the 690 million hungry people in the world. The Nobel Peace Prize gives us a platform to make their needs heard and to mobilise support for them.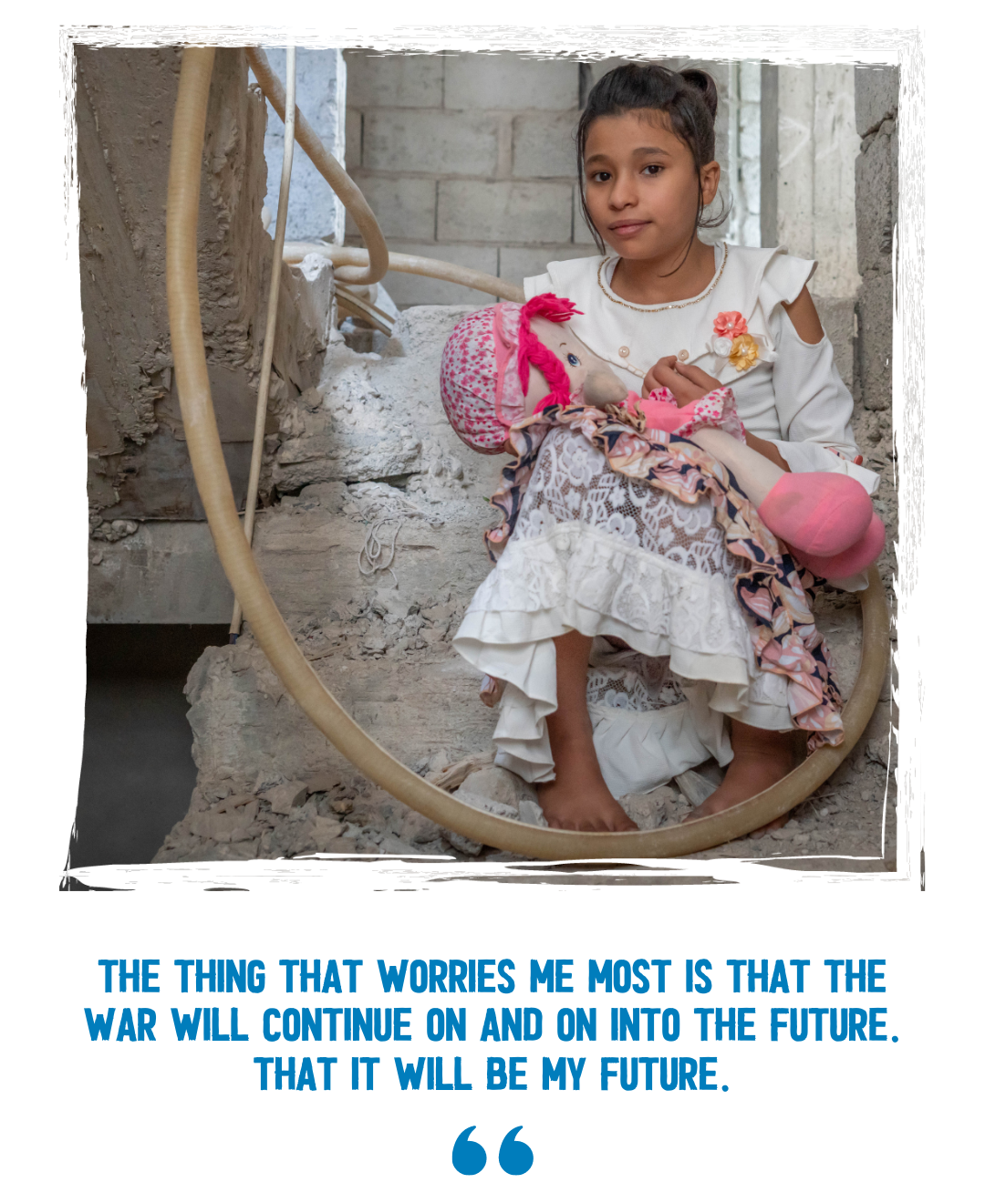 Amina was 7 years old when the war in Yemen started. Her family was forced to flee their home in Hodeidah and seek shelter in Yemen's capital Sanaa. They receive food assistance from WFP each month.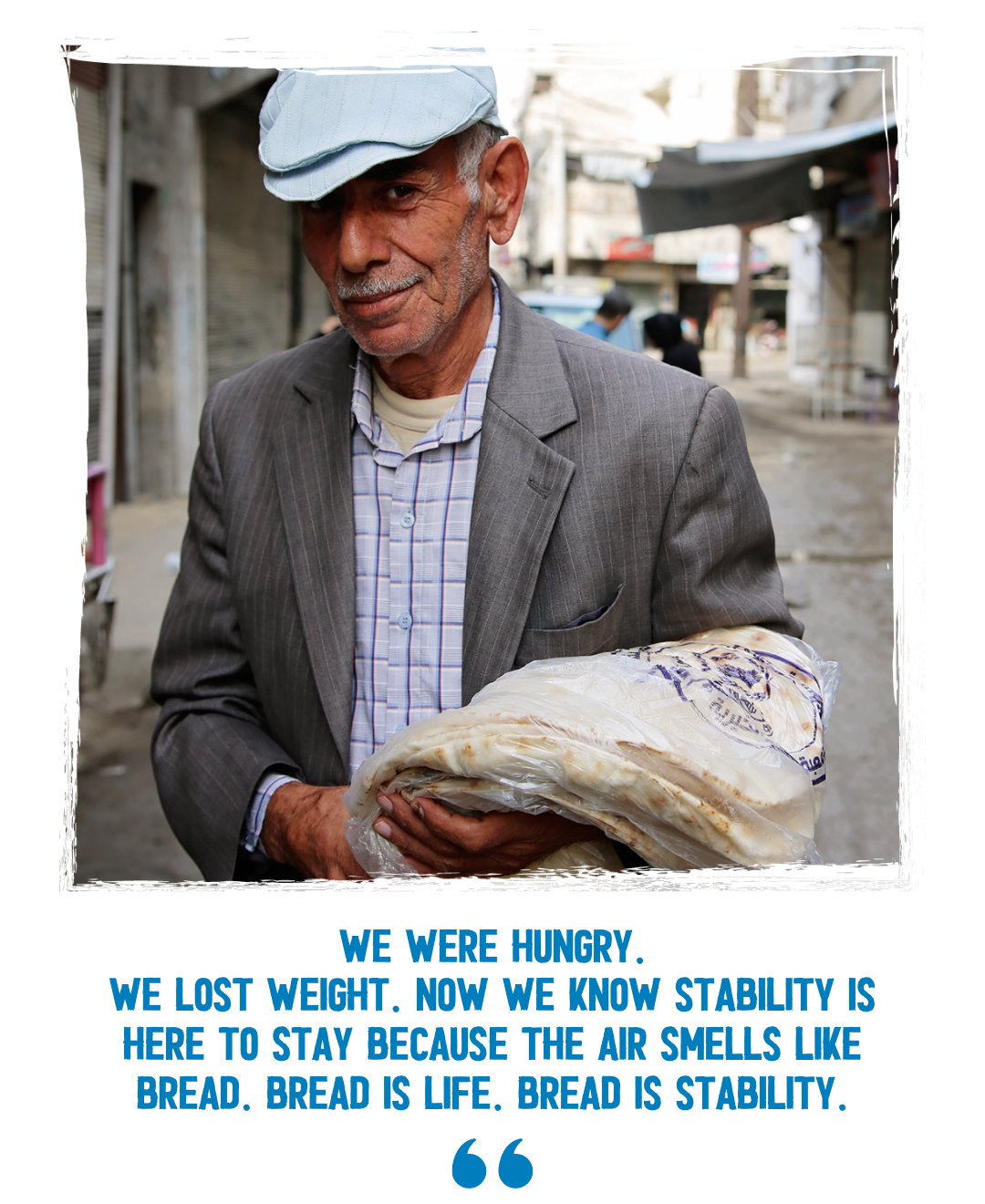 Every day, families in Aleppo collect bread bundles from WFP. The war caused widespread destruction of bakeries across Syria. When families started returning to Aleppo, WFP launched a bread project to help restore bakeries. We've also added bread to our monthly food rations.
Follow us on Instagram, Twitter, Youtube, and Facebook for more stories about the people we serve.
We have been honoured with the Nobel Peace Prize in recognition of our efforts to combat hunger, to help build a world free of conflict and to prevent the use of food as a weapon of war.
Sign up below to receive updates on our fight to end hunger.