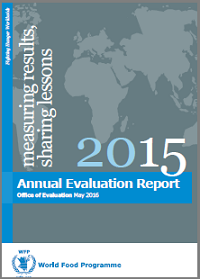 The WFP Office of Evaluation's 2015 Annual Evaluation Report (AER) is presented in two parts:
Part 1 provides synthesized findings, lessons and recommendations from Office of Evaluation (OEV) reports and highlights issues that are particularly relevant to WFP's next Strategic Plan. Reflecting the range of evaluations completed in 2015, this year's synthesized findings cover 32 evaluations and are grouped under three thematic areas: i) emergency and preparedness, ii) nutrition; and iii) country-specific evaluations.
Part 2 reports on developments in WFP's evaluation function, notably its new Evaluation Policy (2016-2021), approved in late 2015, and the Office of Evaluation's performance against its workplan. The Evaluation Policy (2016-2021) is supported by an Evaluation Charter included as an Annex to this report. The charter establishes the mandate, authorities and institutional arrangements for the new evaluation function.