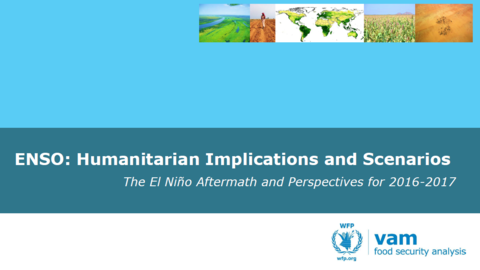 An El Niño event was officially declared in March 2015, gaining in intensity until it reached its peak in December 2015. The event came to an end in May 2016, becoming one the strongest on record, together with the El Niños of 1982-83 and 1997-98.
Borderline El Niño conditions were in place since mid-2014 but never fulfilled the required criteria. Nevertheless, significant El Niño like impacts were felt across the Globe.
The combination of these precursor El Niño-like impacts in the run-up to the main event, its high intensity and its long duration resulted in an extended period of extreme dryness at a near global scale, which had serious implications for the food security of large numbers of people around the globe.
| Document | File |
| --- | --- |
| Full Report [English] | |