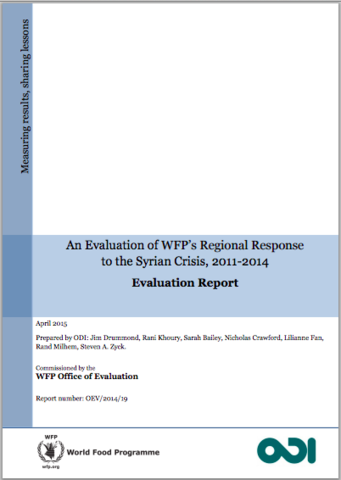 Civil unrest in Syria began in March 2011 and marked the advent of a refugee crisis which continues to gain momentum. The main receiving countries are Jordan, Lebanon and Turkey, and to a lesser extent, Egypt and Iraq. The operational environment is challenging and fast-changing. This is a complex regional crisis that combines massive refugee and internal displacements, complicated by competing and divided international, regional and national interests.
The focus of this evaluation was the WFP regional response to the Syrian crisis as embodied by its two emergency operations (Syria specific EMOP 200339 and regional EMOP 200433) over the period 2011-2014. The geographical area reflected the organisational structure of WFP's response to the Syria Crisis, known as the Regional Emergency Coordination (REC), operating out of Amman (Jordan), and encompassing targeted populations affected by the conflict in Syria and in the neighbouring countries (Egypt, Iraq, Jordan, Lebanon, and Turkey).
Geared towards constructive learning and accountability, the evaluation assessed strategic positioning and programme strategy, organizational effectiveness, operational performance and results; sought to feed into the 2015 REC programming process; and recommended areas of learning both by REC and wider WFP management.