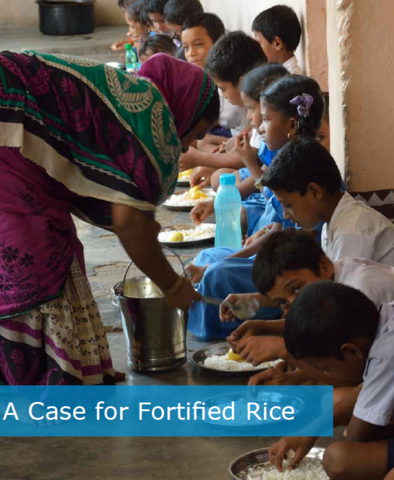 India has made remarkable social and economic progress in the last 25 years. High economic growth has raised the per capita income and reduced poverty significantly. Despite this, the country has faltered on many crucial indicators. The nutritional status of the country has not kept pace with its surge on the economic front, which is a matter of grave concern. There is under-nutrition among large segments of the population, specifically among vulnerable groups like infants, young children, adolescents, women and the elderly.
One way to deliver micronutrients is through fortified food. Food fortification can lead to relatively rapid improvements in the micronutrient status of a population, especially of vulnerable groups. It comes at a very reasonable cost, especially if advantage can be taken of existing technology and local distribution networks. Furthermore, it does not require any behavioural change on the part of the consumer. Fortified rice, if provided through delivery channels that ensure maximum coverage, such as the government's Targeted Public Distribution System, can reach every family under the scheme.
WFP has a long history of work in fortification in India. Most recently, WFP successfully handed over a replicable model for fortification of rice served to school children under the Mid-Day Meal programme in Gajapati, Odisha. The pilot project helped reduce anaemia amongst school children, and was well accepted by the children who liked eating the iron-rich rice. 
Working together with the government, private sector, civil society organizations and UN agencies, WFP has been supporting the strengthening of government food safety nets by making them more effective and efficient. Building a case for the mainstreaming of fortified rice into the government's food safety nets is a firm step in this direction.