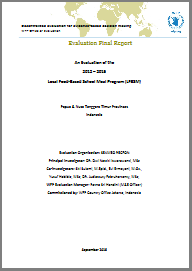 The decentralized evaluation was commissioned by the WFP Indonesia Country Office and covers the Ministry of Health's efforts to improve maternal and child nutrition (MCN) during the "First 1,000 Days" among pregnant & lactating women (PLW) and children younger than two years of age, in Timor Tengah Selatan (TTS) district, Nusa Tenggara Timur (NTT) Province, Indonesia.
The evaluations assessed the program's processes, behavioural outcomes, and nutritional impacts on beneficiaries enrolled in the MCN program from 2012 – 2015.
The evaluation, which makes a number of recommendations for the future, was managed by the Indonesia Country Office and conducted by independent consultants, with fieldwork taking place in January 2015.