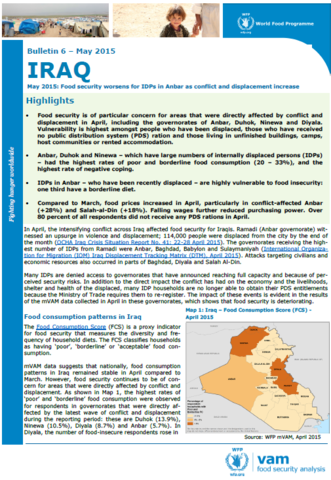 Food security is of particular concern for areas that were directly affected by conflict and displacement in April, including the governorates of Anbar, Duhok, Ninewa and Diyala. Vulnerability is highest amongst people who have been displaced, those who have received no public distribution system (PDS) ration and those living in unfinished buildings, camps, host communities or rented accommodation.
Anbar, Duhok and Ninewa – which have large numbers of internally displaced persons (IDPs) – had the highest rates of poor and borderline food consumption (20 – 33%), and the highest rate of negative coping.
IDPs in Anbar – who have been recently displaced – are highly vulnerable to food insecurity: one third have a borderline diet.
Compared to March, food prices increased in April, particularly in conflict-affected Anbar (+28%) and Salah-al-Din (+18%). Falling wages further reduced purchasing power. Over 80 percent of all respondents did not receive any PDS rations in April.
| Document | File |
| --- | --- |
| Bulletin #6: Food security worsens for IDPs in Anbar as conflict and displacement increase, May 2015 | |