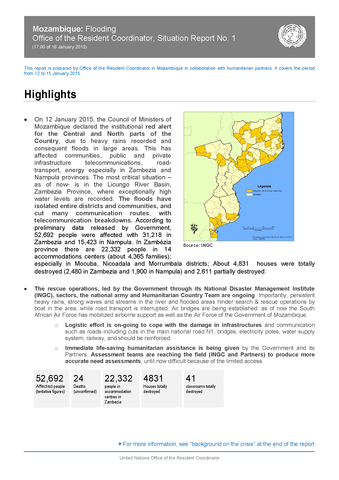 On 12 January 2015, the Council of Ministers of Mozambique declared the institutional red alert for the Central and North parts of the Country, due to heavy rains recorded and consequent floods in large areas. This has affected communities, public and private infrastructure telecommunications, road-transport, energy especially in Zambezia and Nampula provinces. The most critical situation –as of now- is in the Licungo River Basin, Zambezia Province, where exceptionally high water levels are recorded. The floods have isolated entire districts and communities, and cut many communication routes, with telecommunication breakdowns. According to preliminary data released by Government, 52,692 people were affected with 31,218 in Zambezia and 15,423 in Nampula. In Zambézia province there are 22,332 people in 14 accommodations centers (about 4,365 families);
especially in Mocuba, Nicoadala and Morrumbala districts; About 4,831 houses were totally destroyed (2,480 in Zambezia and 1,900 in Nampula) and 2,611 partially destroyed.
The rescue operations, led by the Government through its National Disaster Management Institute (INGC), sectors, the national army and Humanitarian Country Team are ongoing. Importantly, persistent heavy rains, strong waves and streams in the river and flooded areas hinder search & rescue operations by boat in the area, while road transport is interrupted. Air bridges are being established: as of now the South African Air Force has mobilized airborne support as well as the Air Force of the Government of Mozambique.
o Logistic effort is on-going to cope with the damage in infrastructures and communication such as roads including cuts in the main national road N1, bridges, electricity poles, water supply system, railway, and should be reinforced.
o Immediate life-saving humanitarian assistance is being given by the Government and its Partners. Assessment teams are reaching the field (INGC and Partners) to produce more accurate need assessments, until now difficult because of the limited access.