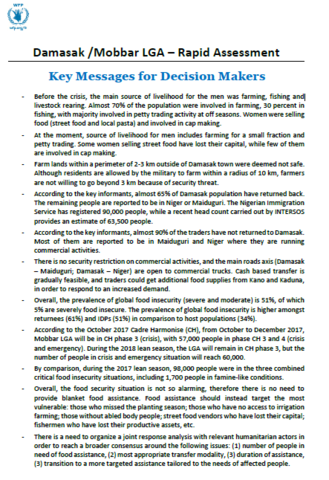 As part of humanitarian responses to the protracted conflict which caused mass displacement and loss of livelihood, several humanitarian actors are currently providing lifesaving assistance in the North East to millions of people. In view of the transitioning from lifesaving to livelihood interventions by some actors, such as ICRC, it has been agreed to conduct a joint rapid food security and market assessment in Mobbar and Kukawa LGA.
Information about the current overall population is Damasak according to the Nigerian Immigration Service and the military is around 90,000 individuals, but according to the monthly update by INTERSOS the population stands at 63,500 individuals. This variance may be attributed to the movement of households across the Niger-Nigeria border depending on food distribution days within Nigeria and Niger. Returnees were population that were earlier displaced to Niger and Maiduguri.
There has been presence of some actors in Damasak providing livelihood and protection related programmes. Amongst the humanitarian agencies on ground identified by the respondents include: ICRC, NRC, ACF, UNHCR and INTERSOS.
This assessment sought to gather data on the food security situation, market situation, humanitarian needs and population movements in communities in Damasak.