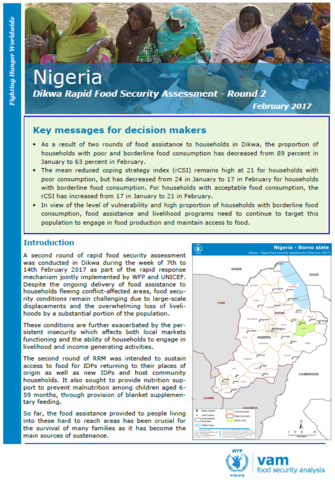 Key messages for decision makers
As a result of two rounds of food assistance to households in Dikwa, the proportion of households with poor and borderline food consumption has decreased from 89 percent in January to 63 percent in February.
The mean reduced coping strategy index (rCSI) remains high at 21 for households with poor consumption, but has decreased from 24 in January to 17 in February for households with borderline food consumption. For households with acceptable food consumption, the rCSI has increased from 17 in January to 21 in February.
In view of the level of vulnerability and high proportion of households with borderline food consumption, food assistance and livelihood programs need to continue to target this population to engage in food production and maintain access to food.
| Document | File |
| --- | --- |
| Full Report [English] | |