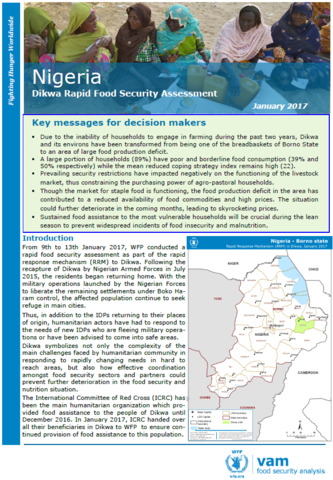 Key messages for decision makers:
Due to the inability of households to engage in farming during the past two years, Dikwa and its environs have been transformed from being one of the breadbaskets of Borno State to an area of large food production deficit.
A large portion of households (89%) have poor and borderline food consumption (39% and 50% respectively) while the mean reduced coping strategy index remains high (22).
Prevailing security restrictions have impacted negatively on the functioning of the livestock market, thus constraining the purchasing power of agro-pastoral households.
Though the market for staple food is functioning, the food production deficit in the area has contributed to a reduced availability of food commodities and high prices. The situation could further deteriorate in the coming months, leading to skyrocketing prices.
Sustained food assistance to the most vulnerable households will be crucial during the lean season to prevent widespread incidents of food insecurity and malnutrition.
| Document | File |
| --- | --- |
| Full Report [English] | |