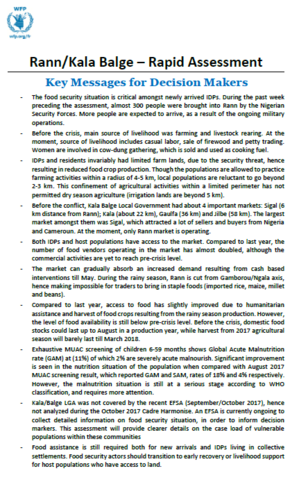 The precarious security environment in northeastern Nigeria continues to limit movement, hinder agriculture activities from being fully practiced in LGAs of Borno state. Agriculture was the mainstay of economic and livelihood activities in many LGAs in Borno before the conflict started. With this disruption on livelihood activities, household food availability, access to basic services as well as the functionality of local markets and income generating activities has been significantly hampered. The recent military operations in wards close to Rann and surrounding LGAs to Kala/Balge have led to the influx of IDPs to Rann.
Information about the current overall population is Rann stands around 70,000 individuals. The vast majority of people hail from Rann, Kala, Jilbe, Jarawa and Daima Abori Wards of Kala/Balge LGA.
Influx of new IDP arrivals was reported from Bama LGA area (500 since the beginning of January). Women and children are believed to have been worst affected by the conflict. Main communities in Rann are: Ajari, Bulamari, Kelagouru, General hospital and boarding primary school. IDP population are more in number than the host populations (the estimation is given as 80% IDPs, 20% host population), with main host communities been Ajari and Bulamari, while the highest concentration of IDPs are within camps in Kelagouru IDP camp, Boarding primary school camp and General hospital camp. Returnees were population that were displaced in Cameroun, Maiduguri and Ngala, and have returned back to Rann.
Amongst the humanitarian agencies on ground identified by the respondents include: ICRC, MSF, UNICEF, Care International, CHAD, IOM, OXFAM, UNHCR. According information gotten in MSF had distributed mosquito nets, UNICEF attending to nutrition cases for children and women, OXFAM has been involved in the distribution of jerry cans and one off cash distribution of 5,000 Naira to 7,800 IDPs households.
This assessment sought to collate data on the food security situation, market condition, availability of phone network, humanitarian needs and population movements. This will be a source of additional information in the ongoing WFP/OXFAM emergency food security assessment, which will provide WFP evidence-based information for decision making.
| Document | File |
| --- | --- |
| Full Report [English] | |