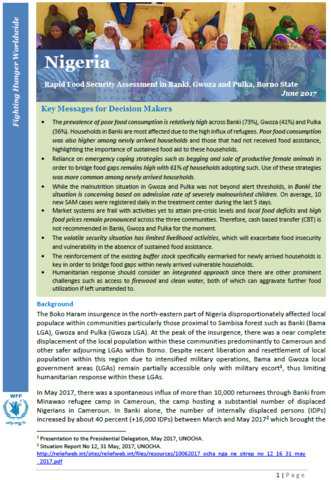 The prevalence of poor food consumption is relatively high across Banki (73%), Gwoza (41%) and Pulka (36%). Households in Banki are most affected due to the high influx of refugees. Poor food consumption was also higher among newly arrived households and those that had not received food assistance, highlighting the importance of sustained food aid to these households.
Reliance on emergency coping strategies such as begging and sale of productive female animals in order to bridge food gaps remains high with 61% of households adopting such. Use of these strategies was more common among newly arrived households.
While the malnutrition situation in Gwoza and Pulka was not beyond alert thresholds, in Banki the situation is concerning based on admission rate of severely malnourished children. On average, 10 new SAM cases were registered daily in the treatment center during the last 5 days.
| Document | File |
| --- | --- |
| Full Report [English] | |