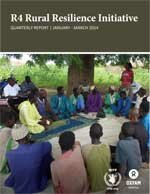 The R4 Rural Resilience Initiative (R4) is a strategic partnership between Oxfam America (OA) and the UN World Food Programme (WFP). R4 was initiated in 2011 to respond to the challenges faced by food-insecure communities enduring increasingly frequent and intense climate disasters and other shocks.
In this report we present R4 key accomplishments from the January to March 2014 quarter, and results from the end-of-season
ssessment conducted in Ethiopia in December 2013.