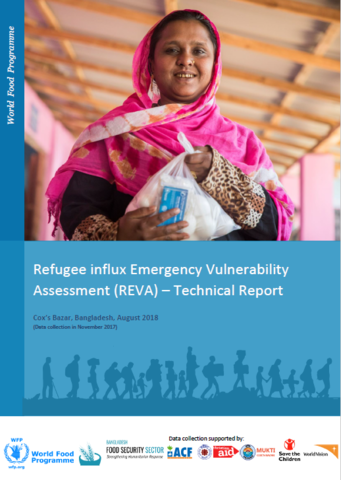 Cox's Bazar has been the center of one of the world's most protracted refugee situations. Since the 1990s and before August 2017, the Bangladeshi government has been hosting more than 200,000 Rohingya refugees. On 25 August 2017, a new round of conflict in the Northern Rakhine state of Myanmar has resulted in an overwhelming number of new influx in the Cox's Bazar district, Bangladesh.
The massive influx of the new arrivals is eroding already poor food security and other basic needs situation of the Rohingya refugees and the Bangladeshi nationals in the host communities around Ukhia and Teknaf sub-districts. Under-nutrition rates are critically high, and protection concerns are rising especially with the high number of women and children. Basic services such as water, health, sanitation, and shelter in the camps and new settlements are outstretched.
In response to the crisis, WFP Vulnerability Analysis and Mapping (VAM) team and the Food Security Sector have conducted the Refugee influx Emergency Vulnerability Assessment (REVA) to understand the priority needs of the Rohingya refugees and the Bangladeshis in the host communities. The assessment answers how many people are food insecure and socio-economically vulnerable and their depth, what their characteristics are, and what the priority actions necessary to improve their lives and livelihoods. The assessment informs the development of local Minimum Expenditure Basket for market-based interventions.
Many partners, including UNICEF, FAO, IOM, UNHCR, ACF, Save the Children have contributed during the design and implementation of the assessment, which will be a key piece to inform the humanitarian response plan for 2018. The design of the assessment was also discussed through consultation with various sectors including health, nutrition, WASH, shelter, education.