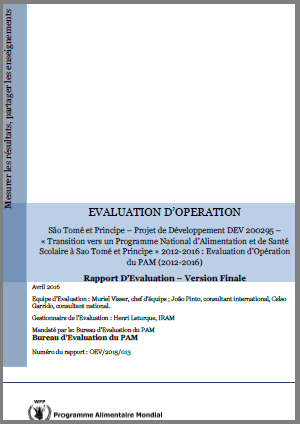 The evaluation covers WFP's DEV 200295 "Transitioning towards a nationally owned school feeding and health programme in São Tomé and Príncipe". It was intended for both accountability and learning and focuses on assessing: i) the appropriateness and coherence of the operation; ii) its results; and iii) the factors explaining the results.
The evaluation assessed the following activities: school feeding as well as capacity development and support to local production.
The evaluation, which makes a number of recommendations for the future, was managed and conducted by a consultancy firm, with fieldwork taking place in January 2016.
Two versions of the final evaluation report (French and Portuguese) are available. Please note that the French version is the only OEV officially approved report.