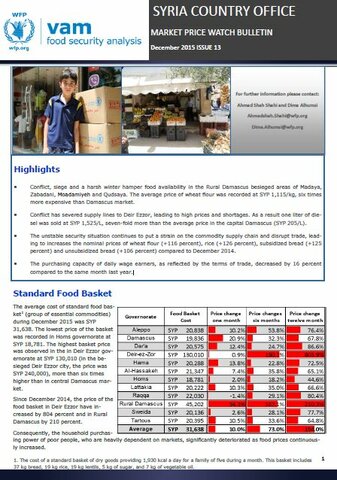 Conflict, siege and a harsh winter hamper food availability in the Rural Damascus besieged areas of Madaya, Zabadani, Moadamiyeh and Qudsaya. The average price of wheat flour was recorded at SYP 1,115/kg, six times more expensive than Damascus market.

Conflict has severed supply lines to Deir Ezzor, leading to high prices and shortages. As a result one liter of diesel was sold at SYP 1,525/L, seven-fold more than the average price in the capital Damascus (SYP 205/L).

The unstable security situation continues to put a strain on the commodity supply chain and disrupt trade, leading to increases the nominal prices of wheat flour (+116 percent), rice (+126 percent), subsidized bread (+125 percent) and unsubsidized bread (+106 percent) compared to December 2014.

The purchasing capacity of daily wage earners, as reflected by the terms of trade, decreased by 16 percent compared to the same month last year.
| Document | File |
| --- | --- |
| Market Price Watch: No. 13, December 2015 | |
| Market Price Watch: No. 12, November 2015 | |
| Market Price Watch: No. 11, September/October 2015 | |
| Market Price Watch: No. 8, July/August 2015 | |
| Market Price Watch: No. 7, April 2015 | |
| Market Price Watch: No. 6, March 2015 | |
| Market Price Watch: No. 5, February 2015 | |
| Market Price Watch: No. 4, January 2015 | |