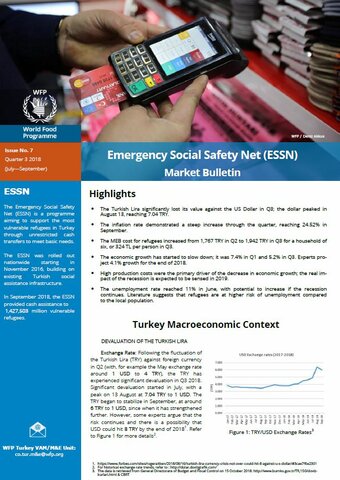 The Emergency Social Safety Net (ESSN) Market Bulletin examines the macroeconomic context, trends in staple food and fuel prices, as well as the cost of the minimum expenditure basket (MEB) and consumer price index (CPI) for each quarter of the year.
The bulletin aims to provide economic analysis for the ESSN programme, which provides unrestricted cash transfers to refugees across Türkiye. This analysis can be used to review and adapt the ESSN, ensuring beneficiaries are provided with the most appropriate transfer value and modality.
The ESSN market bulletin can also serve as a useful resource for other actors providing assistance in Türkiye, to better understand market trends and likely implications on beneficiary purchasing power.
| Document | File |
| --- | --- |
| Emergency Social Safety Net Market Bulletin: Issue No. 7, Quarter 3 2018 | |
| Emergency Social Safety Net Market Bulletin: Issue No. 6, Quarter 2 2018 | |
| Emergency Social Safety Net Market Bulletin: Issue No. 5, Quarter 1 2018 | |
| Emergency Social Safety Net Market Bulletin: Issue No. 4, Quarter 4 2017 | |
| Emergency Social Safety Net Market Bulletin: Issue No. 3, Quarter 3 2017 | |
| Emergency Social Safety Net Market Bulletin: Issue No. 2, Quarter 2 2017 | |
| Emergency Social Safety Net Market Bulletin: Issue No. 1, Quarter 1 2017 | |