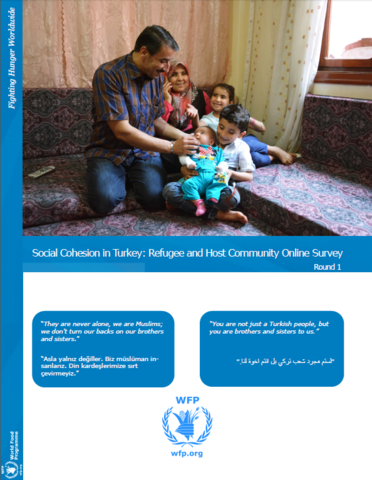 The current social cohesion perception survey takes place within the monitoring framework of the Emergency Social Safety Net (ESSN) programme. The Turkish name for the ESSN programme is Sosyal Uyum Yardimi programi; the literal English translation is Social Cohesion Assistance programme. This Turkish name underlines the idea that providing basic needs assistance to refugees is intended to support the social cohesion of refugees within Turkish communities.
Within the ESSN, the World Food Programme is respon-sible for monitoring and accountability. Within WFP, Vulnerability Analysis and Mapping (VAM) is the basis for the design of all operations, providing the evidence required to plan and adjust programmatic interventions.
Social cohesion between refugees and the Turkish host community could have important implications for the programme, therefore WFP VAM, within the scope of its ESSN monitoring responsibilities, has initiated these social cohesion surveys. The results are intended to be used for ESSN programmatic adjustments as appropriate (for example, different or increased communications to refugees or to Turkish audiences), and by external stakeholders (for example, interventions specifically focused on social cohesion issues).