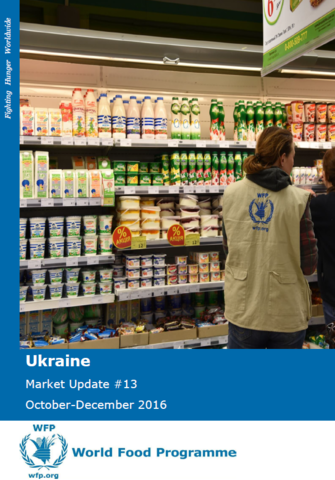 Market Update: October – December 2016
The Ukrainian GDP increased by 2 percent in the third quarter of 2016 compared to the same quarter in 2015.

The consumer prices in monthly terms grew by 0.9 percent in December 2016, while prices increased by 1.8 percent in November and 2.8 percent in October 2016.

The average monthly salary in January - October 2016 increased by 22 percent to UAH 5,350.

Agriculture has become one of the most important sectors of the Ukrainian economy.

Respondents of focus group discussions often mentioned financial problems such as low salaries and pensions, high and constantly increasing prices of food and utilities as some of the major challenges they face.
| Document | File |
| --- | --- |
| Market Update 13, October – December 2016 | |
| Market Update 12, August – September 2016 | |
| Market Update 11, June – July 2016 | |
| Market Update 10, April – May 2016 | |
| Market Update 9, February – March 2016 | |
| Market Update 8, December 2015 – January 2016 | |