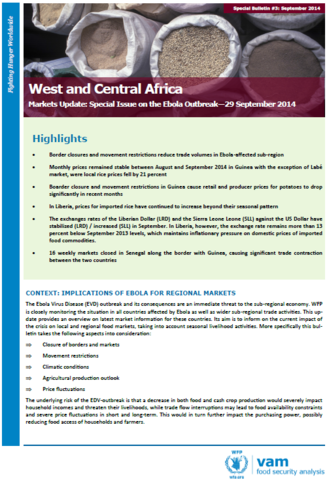 Highlights
Border closures and movement restrictions reduce trade volumes in Ebola-affected sub-region.
Monthly prices remained stable between August and September 2014 in Guinea with the exception of Labé market, were local rice prices fell by 21 percent.
Boarder closure and movement restrictions in Guinea cause retail and producer prices for potatoes to drop significantly in recent months.
In Liberia, prices for imported rice have continued to increase beyond their seasonal pattern.
The exchanges rates of the Liberian Dollar (LRD) and the Sierra Leone Leone (SLL) against the US Dollar have stabilized (LRD) / increased (SLL) in September. In Liberia, however, the exchange rate remains more than 13 percent below September 2013 levels, which maintains inflationary pressure on domestic prices of imported food commodities.
16 weekly markets closed in Senegal along the border with Guinea, causing significant trade contraction between the two countries.