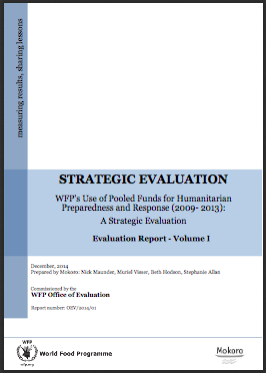 This evaluation is part of a series of three strategic evaluations addressing the theme of Emergency Preparedness and Response which also includes the joint FAO/WFP Global Food Security Cluster and the evaluation of the Preparedness and Response Enhancement Program.
This evaluation considers the use and benefits of three Pooled Funds established to facilitate adequate, flexible and predictable humanitarian financing: Central Emergency Response Fund (CERF); Common Humanitarian Funds (CHFs) and Emergency Response Funds (ERFs). 
The evaluation mainly recommends strengthening the life-saving focus; reducing the earmarking of pooled funds grants; clarifying the criteria for using grants from the Central Emergency Response Fund underfunded emergencies window; increasing capacity to utilize pooled funds as collateral for the release of internal advances; enhancing their contribution to the operation of common services in emergencies; consolidating fulfilment of WFP's coordination responsibilities; enhancing the quality, efficiency and utility of monitoring and reporting.