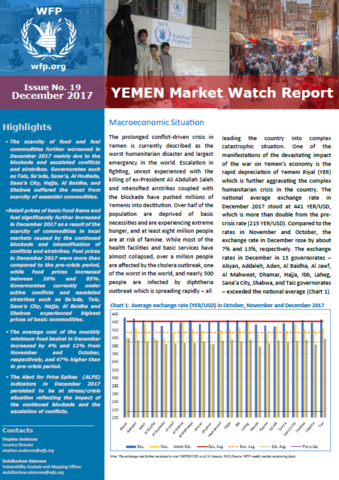 Market situation update for October and 1st half of November 2017. Key highlights include:
Supply and availability of food and fuel commodities deteriorated during the first half of November 2017 mainly due to the blockade and escalated conflicts and airstrikes. Governorates such as Taiz, Sa'ada, Sana'a, Mareb, Al Jawf, Sana'a City, Hajja, Al Baidah, and Shabwa are among the highest affected by scarcity of basic goods. 
Retail prices of basic food items and fuel significantly increased following the blockade and intensification of conflicts and airstrikes in November 2017. Compared to the pre-crisis period, fuel prices are doubled during the first half of November 2017, while food prices increased between 20% and 80%.  Governorates currently under active conflicts and escalated airstrikes such as Sa'ada, Taiz, Sana'a City, Hajja, and Shabwa are suffering from highest prices of basic commodities. 
The average cost of the monthly  minimum food basket in November is about 8% higher than in October 2017, and 41% higher than it was before the crisis. 
According to Alert for Price Spikes   (ALPS) indicators in November 2017 deteriorated from normality to alert/stress situation indicating the impact of the blockade and escalation of fighting.
| Document | File |
| --- | --- |
| Monthly Market Watch, December 2017 | |
| Monthly Market Watch, November 2017 | |
| Market Watch Report, September 2017 | |
| Market Watch Report, August 2017 | |
| Market Watch Report, June 2017 | |
| Market Watch Report, May 2017 | |
| Market Watch Report, April 2017 | |
| Market Watch Report, March 2017 | |
| Market Watch Report, February 2017 | |
| Market Watch Report, January 2017 | |