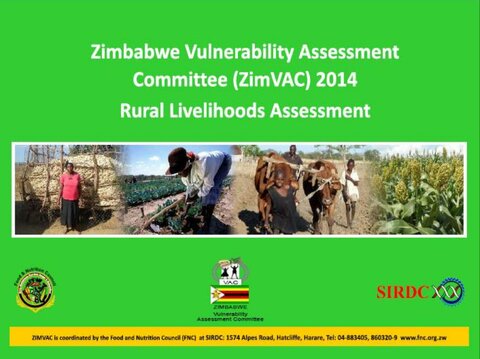 The ZimVAC Rural Livelihoods Assessment identified approximately 6% of the rural population—equivalent to 565,000 people or about 21,000MT of maize —will be in need of food assistance at the height of lean season between January and March 2015.  This estimate is down from the 2.2 million food insecure people (25% of the population) during last year's lean season. Matabeleland North (9.0%), Matabeleland South (8.3%) and Mashonaland West (7.7%) were projected to have the highest proportions of food insecure households. These proportions are higher compared to the national average.
Increases in food crop production, and overall increases in household incomes and livestock prices relative to grain prices, contributed to improving households' access to food this year. The proportion of households consuming a poor diet fell from 11% to 6%between April 2013 and April 2014,while households consuming an acceptable diet increased from 57% to 68% over the same period.
Small grains and localized production continue to be constrained by the absence of effective and affordable processing equipment. Whereas 88% of rural households grew maize during the 2013-14 season, only 21% produced sorghum (9% pearl millet and 6% finger millet).
Over 70% of households that sell maize, wheat, sorghum and millets do so in their local markets, mainly to other households. Though this is desirable to reduce grain prices at the local level, initiatives must be developed so farmers can also access the best possible market returns.
About 60% of rural households do not own cattle and a similar proportion do not own goats, barring the enormous capacity for providing household nutrition and building overall resilience. Additionally, livestock protection measures must be strengthened to avoid huge losses during droughts. 
Thirty percent of rural households are dependent on untreated water sources for their domestic water supply, yet less than 14% of these households treat water before drinking and cooking. Furthermore, open defecation continues to be a common practice for about 40% of rural households. This situation renders a significant proportion of rural households vulnerable to water-borne diseases such as diarrhoea and typhoid. Integrated programming (e.g. food security, nutrition, water and sanitation) must be promoted to deliver holistic solutions to community challenges.  
Only 22% of the rural wards have irrigation schemes and about 44% of these were fully functional in May 2014. Government policy (ZIMASSET, Food and Nutrition Security Policy etc) clearly identifies irrigation development as one pillar in fostering long-term food and nutrition security in Zimbabwe.  
Improvement in water/sanitation and irrigation/dam construction emerged as the highest community development priorities. This highlights the need for government and development partners' support.