Private sector contributions have benefitted WFP operations in 56 countries so far this year. Despite the strain of the global financial crisis, we are working with more than 100 private sector partners – including companies, foundations and individuals.
Five of our key partners
DSM -- Producer of nutritional ingredients, industrial chemicals and material sciences.
Supports WFP's nutrition strategy through research for new products and fundraising for nutritional needs.
A partner since 2007, DSM has developed tailor-made micronutrient powders for and a fortified rice produce WFP operations.
TNT -- Global mail and express delivery company working in 200 countries.
Supports WFP's logistics capacity for emergency respone as well as fundraising for school meals.
Since 2002 TNT has helped WFP in dozens of emergencies, including training and deploying 850 specialists to WFP operations, as well as raising funds for millions of school meals through its employees.
Unilever -- Supplier of fast-moving consumer goods including food, home and personal care products.
Supports WFP through nutrition support, as well as raising awareness and funds for the fight against hunger.
Working with WFP since 2007, Unilever has raised money for school meals through its brands and its employees, as well as helping WFP improve nutrition and hygiene practices among schoolchildren with education campaigns.
Vodafone Foundation – UN Foundation -- The Vodafone group is a mobile telecommunications company with more than 240 million customers worldwide.
Supports WFP's emergency IT operations to ensure that humanitarian responders can communicate effectively in the aftermath of a disaster.
Since 2008, the partnership has funded emergency deployments of WFP IT specialists and has sponsored training for emergency response for 110 professionals in the humanitarian community.
Yum! Brands -- The world's largest restaurant group and parent company of KFC, Pizza Hut, Taco Bell, Long John Silver's and A&W.
Has supported WFP since 2007 by raising funds for the organisation's greatest needs, and raising awareness for the problem of global hunger.
Conducts the world's largest consumer outreach campaign for hunger, raising over US$ 20 million to date.
ROME -- The business world has an important role to play in the fight against hunger – especially when the expertise and influence of companies can be aligned with humanitarian objectives in strategic, long-term partnerships.
UN Secretary-General Ban Ki-moon explains that fighting hunger and poverty should be a priority for the private sector as well as the public sector: "Markets can flourish only in societies that are healthy. And societies need healthy markets to flourish. That is why we have to boost our private-public alliances."
For WFP, support from the private sector includes cash donations to help fund operations, but it also means leveraging companies' core skills to help WFP feed more people better and more quickly.
Here's how the corporate world can help best:
Give cash: cash donations are the best kind of support to WFP's operations, as they allow the most flexibility
Mobilise networks: rallying employees and customers to raise funds for WFP's work
Communicate: raising awareness about the problem of global hunger through campaigns, events, advertising, public relations
Innovate: working with WFP to develop new, affordable and acceptable food products with maximum nutrition impact
On-the-ground research: helping WFP identify and combat malnutrition with targeted interventions
Supply chain expertise: working with WFP to source high quality food locally and regionally for distribution to the remotest parts of the world
Be there in times of need: providing WFP with stand-by staff and logistics support for emergency deployments at a moment's notice
Lend an expert: making available specialists to help with projects requiring expert knowledge
Sharing cutting-edge knowledge: helping WFP identify and adapt the latest IT and communication technologies for humanitarian uses
Learn more about WFP's partnerships with leading companies
___________________________________________________
Clinton Global Initiative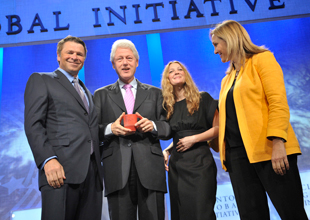 A year ago this month former US President Bill Clinton announced a historic private sector commitment to school meals which included an unprecedented five-year, US$80-million cash pledge from YUM! Brands to WFP and other hunger-related organizations. The commitment allowed WFP to provide meals to hundreds of thousands of children in school.
Watch video of Bill Clinton talking about the power of school meals programmes.
The Clinton Global Initiative was established in 2005 as non-partisan platform for action which provides the means through which global leaders from the private sector, NGOs and governments work together on solutions to growing global challenges.