Afghanistan: Street vendor uses WFP cash assistance to restart trade interrupted by COVID-19
When the coronavirus struck in March, Mohammad Omid lost his income source overnight — now he is earning again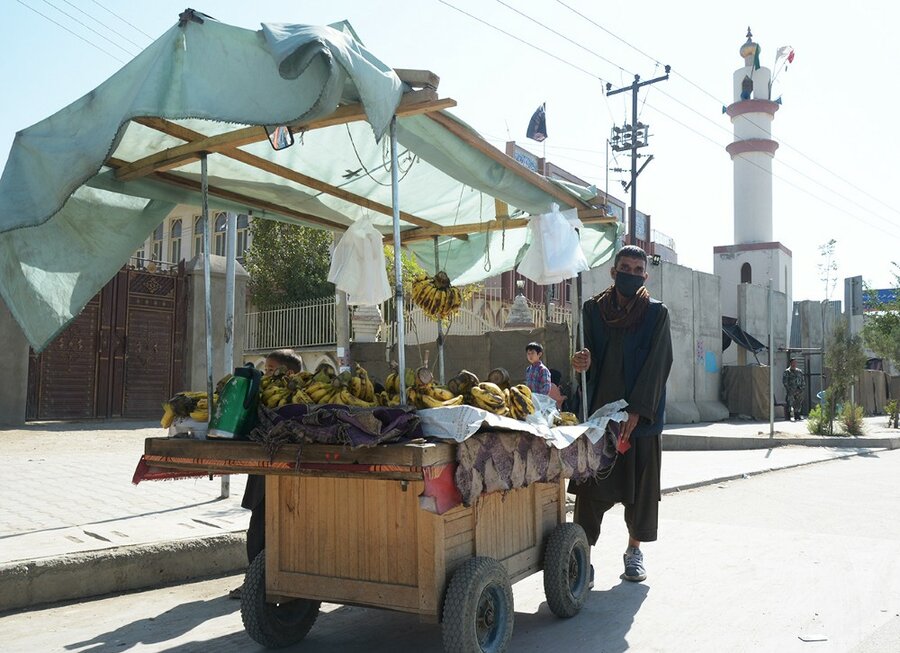 Mohammad Omid stations his cart, and its load of bananas, next to a mosque on Darul Aman in Kabul — a wide and busy street lined with fruit and vegetable stands, where you can buy fresh apple juice and the first pomegranates of the season.
Three times a week, the 38-year-old vendor pushes his cart to a big fruit market in another neighbourhood, and loads it up with about 270kg of bananas — two days' worth of sales.
"I leave at 4 a.m.," says Omid. "It takes me four hours to get there and back. Then I start selling on the street until it gets dark."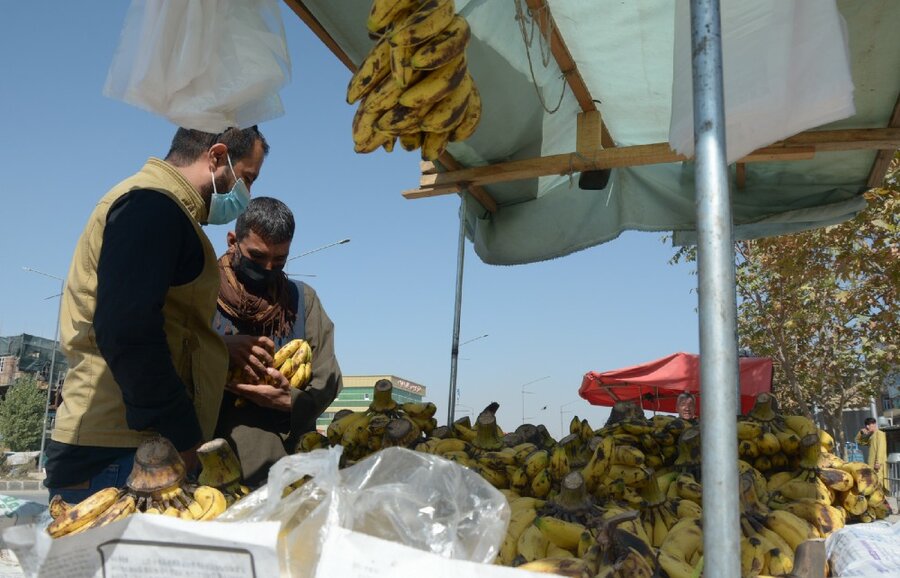 Every day, he sells 700 or 800 bananas. A single bundle of a dozen sells for 40 afghani (US$0.50), leaving him a slim profit margin of a few dollars. His income is the main livelihood for both his family and his brother's — 15 people in total. "This is just enough to get by," he says.
COVID-19 is now driving more and more families to the brink, with the harshest winter months around the corner and food insecurity set to peak.
For Omid, it has been a hard year. When the pandemic struck in Kabul in March, he lost his income source overnight.
"They closed all the streets, the main fruit market was closed, there were no customers, and we were ordered to stay in our homes," he says. "It was very difficult for us."
Omid had to share a bag of WFP-distributed wheat flour with his brother's family.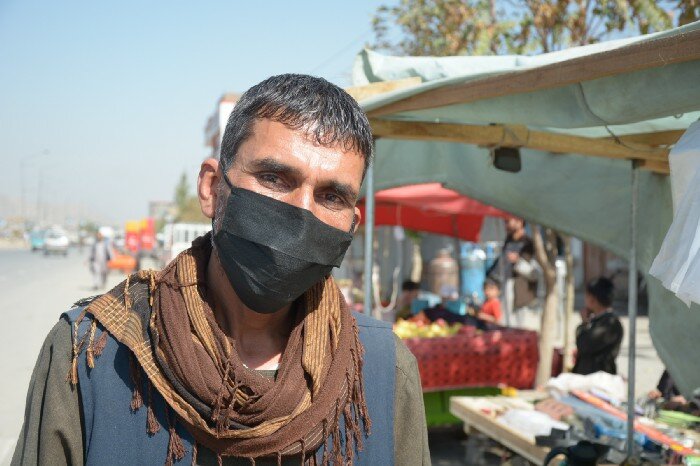 According to the latest figures, the number of food-insecure people in Afghanistan has soared to 16.9 million people, up from 12.4 million half a year ago — a consequence of the COVID-19 pandemic.
By the time lockdown ended in May, he had no money to restart his business.
So he sought domestic work around his neighbourhood but there was little demand. He thought he had left such uncertainty behind when he gave up being a construction worker to start his own business two years ago.
House-to-house assessments earlier this year found Omid and his family were eligible for WFP cash-assistance.
He used part of the payment to buy vegetables and wheat flour. "With the other half, I went to the fruit market and bought fresh bananas to restart my business," he says.
Thanks to WFP, Omid is again loading his cart with fresh bananas and pushes them to his spot on Darul Aman street. He hopes to save some of his profits for his son's education.
"Due to the war, I am illiterate and have no education," he says. "My school got hit by bullets and rockets and I never went back. I do not want my son to grow up like me."
Omid is among some 3 million Afghans hard hit by the pandemic that WFP is assisting on top of the originally planned 7 million this year, most of them in the cities hardest struck by COVID-19. Already, more than one million people have received 6,000 Afghani (US$78) per family to help them meet their food needs for two months.
Across the road from where Omid stands, a truck is offloading big bags of charcoal in front of a shop selling metal stoves — a sign that snow is on its way.
To survive winter, conflict and the pandemic, Afghan people need the world's support now more than ever.