5 ways the World Food Programme (WFP) is circumventing obstacles to save and change lives in the most challenging of circumstances
, Simona Beltrami
In the humanitarian world, the often-repeated business mantra 'innovate or die' acquires a whole new dimension: for an organization like WFP, innovating is a necessity if millions of people stricken by conflict, natural disasters, climate change and poverty are to be prevented from dying of hunger.
With hunger on the rise for the second consecutive year and currently affecting 821 million people across the globe, the pressure is on to find creative ways to reach as many of them as possible.
From high tech innovations to more traditional ways, here are five solutions the WFP Supply Chain Division has used or is testing to help save lives against the odds.
1. Over the hills and across the water — Amphibious, all-terrain vehicles
The world's hungry often live in remote, difficult-to-access areas. Take the case of South Sudan: poor infrastructure, which leaves vast areas of the country isolated during the rainy season, means vulnerable communities can remain cut off from assistance for months. To overcome the challenges of reaching them, WFP is testing a new amphibious all-terrain vehicle which can easily overcome any obstacle in its way, float and move out of the water.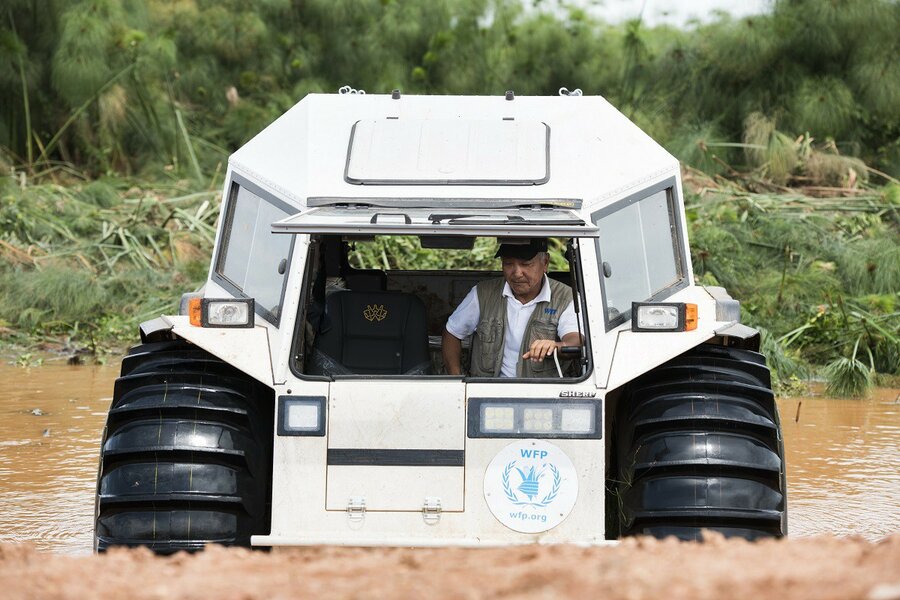 These vehicles can hold 1 ton of cargo, have very low fuel consumption and can run for around 500–600 km on a full tank. They will allow WFP to deliver food to places that have so far only been reachable by air, cutting transport costs significantly to US$ 450 per metric ton as opposed to the US$ 2,400 spent for helicopter air drops.
"This vehicle is going to help us a lot," says Richard Gama, a driver from South Sudan who was trained to drive it. Richard has been a driver with WFP South Sudan for the past 12 years. "Sometimes we can't get the food across to the people as our vehicles can't pass, so they have to cross the swamps to come and get the food from us," he explains.
Beyond South Sudan, where they were first deployed,  these vehicles hold potential for WFP and other humanitarian agencies. According to WFP's Global Fleet Team, this could be a life-saving innovation, enabling access to people in areas hit by natural disasters such as earthquakes and tsunamis.
2. Food from the sky — airdrops
At times when all surface access is impossible, WFP takes to the skies. During the last year of the siege of the Syrian city of Deir Ezzor, WFP airdrops were the only available lifeline for people trapped inside.
To protect the aircraft from ground artillery, the Deir Ezzor airdrops were done from over 5,000 metres — the first use of high-altitude airdrops in a humanitarian context. Where there is no such danger, as in South Sudan, planes can fly at lower altitudes, but in either case these operations require careful preparation, surgical precision, detailed and up-to-the-minute weather and security information, nerves of steel and artful skills at the time of delivery.
In reasonable conditions, it is possible to drop food — mainly cereals and pulses, but also vegetable oil and fortified foods — with 100 percent accuracy into an area of 1,500 by 600 metres. This requires the same precision as dropping sesame seeds onto a postage stamp from a height of 5 metres.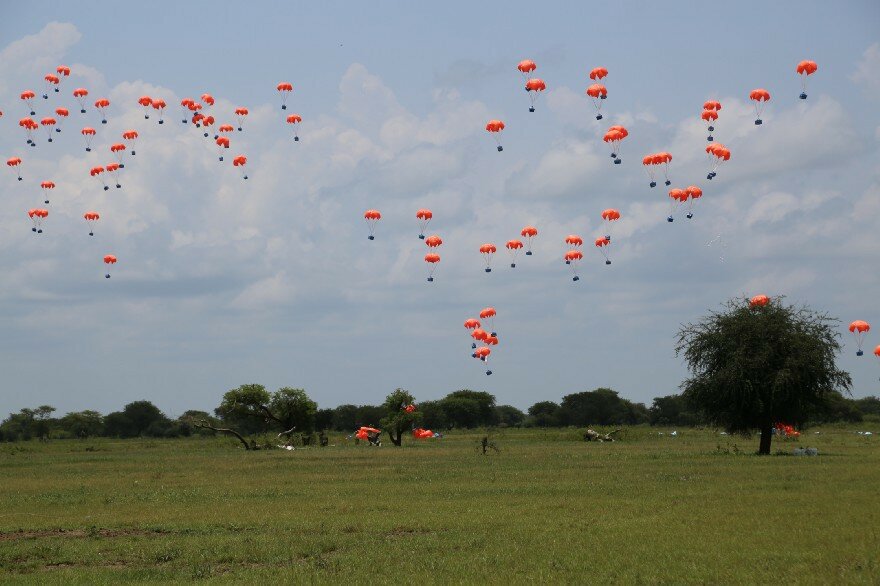 3. Innovative old ways — river transport and mountain trails
Innovation does not always equal high tech. Sometimes, traditional practices can provide the right answer to complex logistical scenarios.
South Sudan has once again provided the testing ground for creative delivery solutions. In a bid to cut costs for airdrops, WFP has reopened river deliveries to transport food into areas inaccessible by road.
For the first time since the start of the civil war, in October 2018 WFP managed to reach communities in Ulang County, in the Upper Nile, by sending boats carrying life-saving humanitarian assistance up the river Sobat, a major tributary of the White Nile.
The river convoy, consisting of one barge and 11 smaller boats, transported food and nutrition supplies — including sorghum, pulses, vegetable oil and fortified cereals — that would sustain 40,000 people for one month. It took the vessels one week to reach their destination.
Full utilization of river transport in South Sudan could become an alternative to costly air deliveries as well as a driver for the economic development of riverside communities.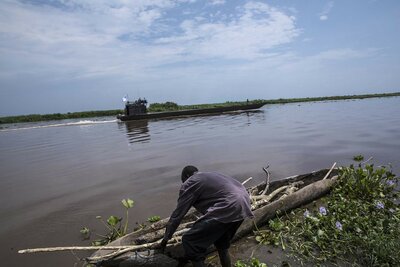 In Nepal, WFP also resorted to traditional means of delivery when two devastating earthquakes struck in quick succession in April and May 2015, destroying the roads and trails that connected remote villages to markets, hospitals and schools, and leaving communities almost impossible to reach with emergency aid.
In this case, access was ensured by rehabilitating mountain trails and employing mule trains and local porters to dispatch food and other essentials like medical supplies, hygiene kits and shelter materials.
As part of the ongoing recovery efforts, WFP is supporting local communities in repairing damaged trails to ensure villages are connected to much-needed food, livelihoods, services and each other. So far, over 900 km of trails have been rehabilitated, which has allowed people to reach markets to buy and sell food, access services and start new businesses in the valleys.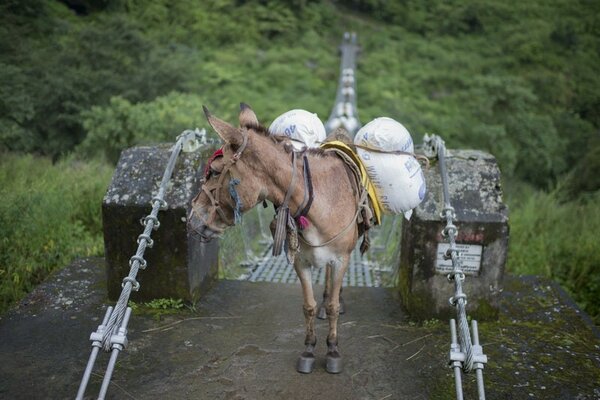 4. Clean water on the go — mobile water purification units
The obstacles WFP needs to overcome are not just physical. Sometimes, even when vulnerable communities are relatively easy to reach, other factors can compromise the effectiveness of assistance programmes. The availability of clean drinking water is one. This is particularly important in emergency contexts or at times of drought — but not only. In nutrition programmes, clean water is needed to mix the fortified cereal blends used to fight malnutrition.
In 2018, WFP piloted the use of a water purification truck in Kyangwali refugee settlement on the shores of Lake Albert, in northeast Uganda. The truck can make safe drinking water available where needed by cleaning 15,000 litres per hour of water from multiple sources — with different systems it could work with lake or sea water — to World Health Organization approved standards.
5. Making the best choices, always — OPTIMUS
Every day, WFP makes dozens of decisions — whether it is better to give assistance in the form of a food or cash, what to put in the food basket it delivers to beneficiaries, where to buy the food and how to transport it — that can make a big difference to the lives of the people it assists. This requires the analysis of data from dozens of sources, each related to different parts of the organization's complex operational structure.
To facilitate these processes, WFP teamed up with Tilburg University in the Netherlands and Georgia Tech in the United States. The result was Optimus, a tool that processes data to help draw operational plans that achieve WFP's programmatic goals — for example, ensuring that people receive the necessary calories, and that their diets are varied and nutritious — at lowest cost, while respecting operational constraints such as available funding and the time it takes to deliver the food.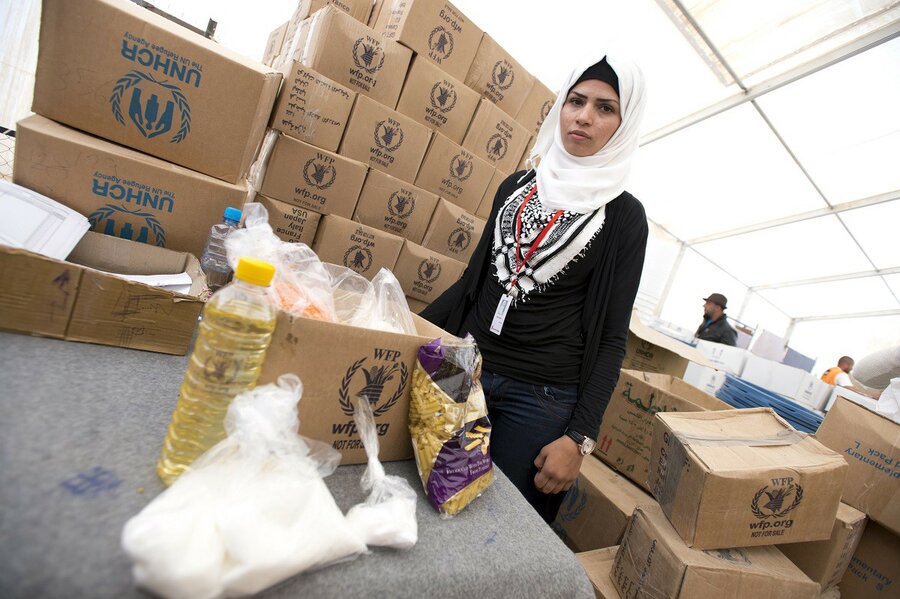 Optimus can be an invaluable ally when facing emergency situations and budget constraints. For example, in Yemen, where the world's worst humanitarian crisis is unfolding, Optimus generated several optimized baskets with different compositions, from full rations to half rations — and even quarter-rations for worst-case scenarios — depending on funding availability. It was then used to identify the optimal sourcing and delivery strategies for providing these baskets to increasing numbers of people.
In Ethiopia, Optimus assisted with the calculation of the total cost of different sourcing strategies (including the costs for procurement, shipping, storage, distribution, support, etc.) for every type of food included in WFP distributions. For example, beans are usually purchased locally, as market prices are very competitive during the post-harvest season. During the lean season, however, local procurement prices often increase by up to 60%, which has a significant impact on the overall cost. So it was found that at that time of year, it is more efficient to rely on internationally available alternatives such as yellow split peas. However, cost is not the only relevant variable, and Optimus allows for other factors — including beneficiary preferences, delivery times, nutritional value or cooking time — to be taken into account.
As conflict, climate change and natural disasters contribute to burgeoning humanitarian needs, and available resources continue to shrink, WFP's aptitude for innovation will play an ever more crucial role in the fight against hunger — a fight which WFP and the world cannot afford to lose.