WFP National Ambassador, DJ BoBo, swaps his native Switzerland for the heat of Ethiopia in a trip to check out WFP's work in the region. WFP spokesperson, Simon Pluess, was with him.
Introduction
WFP National Ambassador, DJ BoBo, swaps his native Switzerland for the heat of Ethiopia in a trip to check out WFP's work in the region. WFP spokesperson, Simon Pluess, was with him.
Day 1: 5th March 2007
3:30am
After a long flight, the plane lands at Addis Ababa airport. A fresh breeze is blowing, and I have to put on my pullover. We are at an altitude of 2500 metres!
Hagos, our driver, drives us to our hotel, crossing a deserted city at this late hour of the night. We have to rest now, because tomorrow will certainly be a long day for us.
11:00am
Mohammed Diab, WFP Country Director in Ethiopia, welcomes us to his office where we will get a glimpse of the organisation's work.
"I congratulate you for choosing this country for your first

More than 31 million people live with less than 35 cents per day


Mohammed Diab, WFP Country Director
mission as an Ambassador against hunger for WFP. With 77 million people, and the size of both Spain and France together, Ethiopia is still one of the poorest countries on Earth," he says.
"More than 31 million people live on less than 35 cents per day. Life expectancy at birth is 45.5 years. There are few natural resources, and the scope of poverty is unthinkable.
"You are going to see extreme poverty with your own eyes, and the things that you are going to observe will help you in your work to help these people. We have managed to get many of these people out of misery, even though they still remain poor. They have refound their dignity."
2.00pm
Our first visit to the field starts in the western part of the city, at Addis Katama, which means "new city". Tourists are seldom seen in this district, except if they are lost.
In the courtyard of a house, about one hundred women and children are waiting for their monthly food aid distribution. People here are directly or indirectly affected by HIV/AIDS.
Either themselves or one of their close relatives is infected by the virus. I meet a boy called Shiferwaw. His parents are dead, killed by HIV/AIDS.
Back to school
He now lives at his grandmother's, who tries as hard as she can to take care of him. Apparently, he suffered from malnutrition for a long time, and although he is 15 years old, he looks like a ten-year-old child.
We talk, and he speaks a little bit of English. Thanks to WFP, he has been able to go back to school.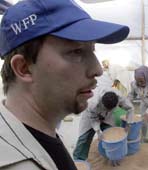 WFP provides food aid to more than 3000 people who are touched by HIV/AIDS in this part of the city. The agency assists a some 110,000 people in various towns in the country who have the virus.
What surprises me most in Addis Katama were the smiles and the warmth that I can see on everybody's faces. These people would have all the reasons in the world to be desperate.
7.00pm
Another place, another universe. The Swiss ambassador in Ethiopia, Peter Reinhardt, invites us to his beautiful residence.
The American, German and Canadian ambassadors are there as well. It gives me the occasion to share my feelings about this day in the field, and to learn from their experiences.
Day 2: 6th March 2007
DJ Bobo spends another busy day in the province of Tigray, one of the regions most hit by hunger in Ethiopia.
We have already become a good team: Paulette and Melese from WFP in Addis Ababa, Simon from WFP in Geneva, Flore and Claude from Swiss French TV, Thilo who writes for the German weekly Der Spiegal and of course Oliver, my friend and manager.
Fortunately, the plane takes off only at noon and our journey to discover hunger continues. It is not the same thing to see the images of hunger on television as to see these same images with your own eyes.
11.00am
Thousands of people and vehicles fill the narrow road which leads us towards the airport.
The air is filled with sand and with the pollution of cars, which gives me a difficult time to breathe.
To give some hope is worth more than money


Yirga, former lawyer who helps HIV/AIDS sufferers
The flight to Mekele, some 800 kilometres in the northeast of Ethiopia, lasts approximately one hour.
From the plane, I perceive the desert landscape below me; it is difficult to see any vegetation, it seems to be only sand and dry earth.
Eighty-five percent of Ethiopians live on subsistence agriculture or on pastoralism.
Rains are rare and if the rainy season fails, the consequences are disastrous.
Thus, it is not surprising that 47 percent of Ethiopian children below the age of five are much smaller than European children of the same age. Malnutrition slows down their growth.
2.00pm
In Mekele we are received by Josephine, the head of WFP's sub-office. She informs us about the reality of the region of Tigray which had known one of the worst hunger crises over the past 20 years.
We all remember the famine of 1984, which took the lives of more than a million people. Since then, many things have changed.
WFP in association with the government and other aid partners has been able to bring significant and lasting improvements for the population of the region. I am eager to discover it.
4.00pm
There is no time left for a break. After a stop in two big WFP warehouses, where some 20,000 tons of food are stored for the region's population, we visit another HIV/AIDS project.
WFP works here with an Ethiopian NGO partner, and the staff are all volunteers.
I get to know Seged, 32. Two months ago, he was suffering from HIV/AIDS and was close to death. He was taken off the street and into the centre.
"Victory"
He is crying as I speak to him. He is still weak, but WFP food and the antiretroviral drugs will soon give him back his strength.
Seare, a little girl at the age of one, also stuck in my mind. Thanks to antiretroviral drugs and good nutrition, the virus was not passed from mother to child.
Seare was lucky. This could explain why her name means "victory".
"To give some hope is worth more than money," explains Yirga, the director of the project, who gave up his career as a lawyer in order to help HIV/AIDS victims.
"We die from the inside if we see human suffering without helping" he tells me at the end.
Day 3: 7th March 2007
Today's trip with the WFP will be particularily interesting, because we are going to see school feeding programmes, a project I'm particularily interested in.
7.30am
Early in the morning, our car convoy leaves Mekele and two hours later reaches the district of Wuko.
The road crosses a mountainous area, which looks like a canyon, and the tragic beauty of the place hides the dry soil and the lack of trees and plants.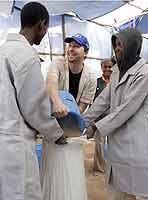 The mountains around us look like mushrooms, shaped by soil erosion.
Agricultural over-exploitation and deforestation of the past have marked this landscape, located at an altitude of 2000 metres.
The lack of water is evident everywhere. The more we move forward, the more the road becomes impassable. However this does not seem to be an obstacle for our four-wheel drive cars.
10.00am
As soon as we arrive in the district of Wuko, greenery reappears. Fields are cultivated, and people are taking their produce to the weekly market. What a change! I wonder what may have happened here.
11.30am
We arrive in the Aid Bere school. The mothers of schoolchildren are distributing food to the students.
WFP provides food consisting of vitamin and mineral enriched corn soya blend.
The mixture is combined with water, oil and salt and prepared on a fire in a big saucepan. We find children who would be undernourished without the food provided at school.
Healthy bodies and minds
Their parents usually prefer to send them to work rather than to school, because they depend on their help to feed the family.
Thanks to school feeding, the number of children going to this school has doubled within three years, from 655 to 1325 children.
The meals feed their bodies and their minds. It gives them the necessary strength to study.
Memory
During the break, the children leave the classroom to water the school vegetable garden. Fruit and vegetables allow them to diversify their meals.
I have the opportunity to sit down with the children in the classroom, and I listen to songs that explain mathematics. Learning by singing! This is brilliant, and I am really touched by this moment.
I don't need any pictures - I will keep the memory of this school forever in my mind.
2.00pm
Why then is it so green in the district of Wuko? In fact, this is because of an initiative undertaken by WFP, the Government and the village communities which began five years ago and which has changed all their lives.
In order to turn this dry and desert valley into a fertile area, terraces have been built along the bare slopes of the mountains and trees have been planted.
In return for this work, WFP provides food to the villagers. When the rain comes, water no longer runs down the slopes like a wild torrent; it is kept back by vegetation and the terraces.
Wells full
I visit cultivated fields and wells, which, despite the current dry season, are still full because of the underground water regenerating itself.
The well water is used to irrigate the fields. Five years ago, the 700 wells in the valley were dry during the same period of year.
Today, we can see fruit and vegetables growing, such as guava, orange, cabbage and tomatoes, and people come from afar to visit the project and imitate it in their own regions.
Self sufficient
I meet people who don't want to rely on food aid, and who are on the right track to becoming self sufficient.
It's encouraging, I'm delighted! In a region, which had seen some of the worst hunger crises in recent history, we can now see people joining hands to embrace the future.
This is the type of food aid that I want to fight for. This will be my duty as an Ambassador for WFP. But now, to tell you the truth, I really would like to see my wife and our two kids.
Day 4: 8th March 2007
Only one day left before my departure. I am terribly tired; the emotions of the past few days have exhausted me. Often I stayed awake at night and I tried to digest what I saw. But satisfaction is stronger than tiredness.
I was able to see with my own eyes the things that I want to fight for in the future.
Yesterday evening, staff at the WFP office in Mekele organised a goodbye party. It was incredible; a buffet with Ethiopian sour dough with a wide selection of vegetable and meat dishes and a local group that played traditional music.
The groove of the rhythm made everybody stand up and dance. The moon in the sky was huge and lit up the night and the neighbourhood was vibrating to the sound of the music.
11.00am
I receive a gift from the WFP staff. It is a traditional suit, usually offered to the high dignitaries of the country. After a short farewell ceremony, we fly from Mekele back to Addis Ababa.
2.00pm
Ethiopian television, which filmed our whole journey, conducts one last interview with me. Who knows, maybe other regions will see the pictures on TV and feel encouraged by the progress made in Tigray and will want to set up similar projects in their region.
Tomorrow I am going back home. There won't be any time left to rest!

Let's do it!

I have met people in Ethiopia who embrace their future with optimism and a smile.
Many efforts aimed at reducing poverty and malnutrition in the country have already born fruit.
Climate change
It is very likely, that there will be other terrible droughts in Ethiopia in the future. It is so unfair that global climate change affects poor countries like Ethiopia so much more than northern countries.
It is my responsibility and that of the international community to continue our support of Ethiopia until drought no longer pushes millions of people into poverty.
"Let's do it"
With our support rivers and wells will continue to carry water, despite the drought - water to irrigate fields and grow food.
When this happens, WFP will wrap up its operation because Ethiopia will produce enough food to feed its people.
What a magnificent experience to have been able to be in the right place at the right time.
There is still a lot of work for us. All I can say is: "Let's do it!"