Known as the "City of Cherished Martyrs", Herat bears the scars of 25 years of conflict. But thanks to new projects to improve literacy and self-reliance, some of the city's widows are finding ways to escape the past, as WFP spokesperson Jackie Dent discovered.
Jalil Ahmed, head of the Department of Martyrs in Herat, is in the middle of a conversation when a group of about 25 women, all widows, silently file into his office.
Draped in black chadors or with burkas pulled up over their heads, the women choose different places to sit – the couch, on chairs, the floor – but all come with exactly the same request: please, please, help us.
Impassioned pleading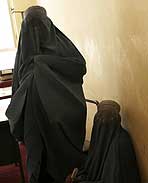 Some women sit quietly with their hands on their laps, gazing as if lost. Others are more impassioned and forthright in their pleading.
"How can we survive on this money?" one asks, in reference to the US$6 a month she is entitled to. "We need more!" pleads another. The misery in the room is palpable.
Daily procession
But Jalil remains calm and chats away with a warm smile on his face. What else can he give? He is used to this daily procession of widows walking into his office.
"Sometimes there are as many as 400 or 500 coming to ask for money in a day," he says. "But there is nothing we can do. We don't have anything else to give them."
City of Cherished Martyrs

Herat, in Western Afghanistan, is known as the "City of Cherished Martyrs".
In March 1979, a local uprising against the communist regime in Kabul resulted in the deaths of a couple of hundred Soviet nationals. The communists retaliated with carpet bombing and street warfare ensued.
It's estimated that between 5,000 and 25,000 people were "martyred" as they attempted to fight off their enemies with sticks and rocks.
Emotional impact

While Herat is slowly recovering - its famous Blue Mosque, tree-lined streets and peaceful parks have given it a reputation as one of the most beautiful cities in the country - the emotional impact of the Soviet invasion hasn't faded.
The streets are littered with painted portraits of commanders who died during the conflict.
In addition, an impressive new army museum is set to open in 2006, the highlight of which is an extraordinary 360-degree mural depicting the Soviet invasion and ensuing troubles, which has taken 14 art students from the University of Herat over a year to paint.
Poignant memorial
Sometimes there are as many as 400 or 500 (widows) coming to ask for money in a day. But there is nothing we can do. We don't have anything else to give them


Jalil Ahmed, head of the Department of Martyrs, Herat
The most poignant of the memorials is a cemetery on the outskirts of the city. Afghan tombs usually bear the deceased's name and age and verses from the Quran, or the flag for "shaheed", which means they were martyred and died for a good cause.
But it would be impossible to list names and ages at this site, as "The Cemetery of People with No Name" is a mass grave for the thousands of people killed during the invasion.
Mass grave
According to Jalil Ahmed at the Department of Martyrs, there were always rumours in Herat about the existence of a mass grave, but it was only discovered in 1992.
Thousands of exhumed skeletons were initially displayed under glass, both as a reminder of the horrors of the war, and to give the living a chance to recognise loved ones by their clothing or jewellery and reach some sort of closure.
But when the Taliban took control of the city in 1995, they ordered the glass to be replaced with concrete, saying it was not permitted by Islam to have bodies on display.
Projects

Herat does more than just build monuments to its dead; there are a number of projects aimed at helping the estimated 50,000 families who were affected by the invasion and ensuing conflicts.
Herat Women's Council with the assistance of WFP is currently teaching around 200 widows how to read and write; a further 90 are learning tailoring and embroidery skills. These women receive food rations to encourage their attendance at the courses.
The Department of Martyrs also runs a number of schemes, including carpet-making and needlework, with the support of local business people.
Meagre living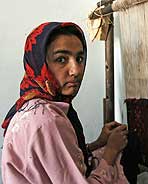 Widows in Afghanistan, whether young or old, face many economic and social problems, particularly if they have no male relatives to support them. They eke out a meagre living by begging, washing clothes or working on construction sites carrying bricks.
But through the assistance of the local government and WFP, some of the widows of Herat are finding there are opportunities to escape the daily grind; and the past.