Flight into Uganda
Past and ongoing fighting in Southern Sudan, Rwanda, Burundi, the Horn of Africa and the Democratic Republic of Congo has seen some 241,000 refugees flee into Uganda since 1988.
Under a "Self Reliance" strategy set up by the Ugandan government and UNHCR, the UN's refugee agency, the new arrivals are allocated small plots of land on which to build small houses and grow food, and are given a hoe, an axe, a sickle, a panga (a kind of machete) and some seeds.
WFP provides food to over 192,000 refugees in 66 settlements in Uganda, through general food distributions, school feeding, food-for work and food-for-training programmes, and nutritional support for vulnerable mothers and malnourished children, as well as people affected by HIV/AIDS, tuberculosis and sleeping sickness.
Almost 80 percent of the refugees in Uganda are settled on agricultural lands and receive limited food assistance based on the difference between what they can grow or afford to buy, and the minimal human dietary requirement of 2,100 kilocalories per person per day.
Almost 60,000 refugees have been completely phased off food rations thanks to improvements in food self-sufficiency under the Government and UNHCR Self Reliance Strategy.
Five refugees from the Democratic Republic of Congo talked to WFP spokesperson Lydia Wamala about their lives and their struggle to cope in the Kyaka II settlement in western Uganda, home to the largest number of Congolese refugees in the country.
Marie Borive
Marie Borive is a 40-year-old mother of five from the Bagegere tribe in eastern Congo who lost both her husband and a one-day-old baby in separate arson attacks. She has been living in Kyaka II camp since April 2005.

We have been on the move for about five years now. We left our home in Musale after it was set on fire.
We moved from place to place within Congo, pursued by the Lendu tribespeople because the Bagegere tribe had allied with their enemies, the Hema.
There were seven of us in the beginning; now there are just my five children and me. I can't remember exactly the year in which the Lendu first attacked us. It was probably 2001. Every night they came to the neighbourhood and set houses on fire.
Charred remains
One night, the children and I were too frightened to sleep in the house and left to sleep in the bushes. My husband, Bui, refused to go with us; he said he would stay behind to fight for the house. In the morning we found his charred remains.
After his death, we left Musale and moved to a place called Kyoma, where I gave birth to a baby girl. The very day I gave birth to her, the Lendu arrived at night, again setting houses on fire.
Fire and bullets
We heard the sound of fire and bullets and knew it was them. They had been hounding the neighbourhood for some time. They burnt house after house while at the same time firing shots into the air.
We fled in such haste that I left my newborn behind. When we returned to the house two days later, her body was decomposing. All our property had been burnt.
Sleeping on the ground

Now six of us have to squeeze into this house at night. We sleep on the ground and use blankets that we got from UNHCR. See - I am building another house up there so that we can have more space.
Life is hard in Kyaka. I have not started cultivating food. I have this bush on which to grow food, but where would I get the strength to cut down this thicket? I badly need money – it would cost 10,000 Ugandan shillings (US$5.7 dollars) to clear this area. I also need seeds so that we can eat better.
We like the corn-soya blend (from WFP). It's good for the children. But the bean portion is so small; right now there is only one mug left.
Mia moja!
Each time the food runs out, I have to travel far away - up to four kilometres - to find people who can pay me to work in their fields. I can't work for my neighbours – they are as poor as me.
I could never return to the Congo. That war will not end. Despite the poverty, I would rather live here. How much money do I have on me right now? (She looks for a knot tied in her clothing and laughs.) Mia moja! (100 Ugandan shillings, or five US cents).
Bagonza Kasangaki
Bagonza Kasangaki is a 27-year-old Congolese who witnessed the execution of his three young cousins. He has been living in Kyaka II camp for two years with his wife, two children and mother-in-law.

Initially our tribes were friends - the Balega and the Hema. Suddenly the Balega turned against us, saying we were not true Congolese and that we should leave the country.
One morning in Njugu village, we saw a group of Balega draped in fresh banana leaves, intoxicated and wielding spears and machetes. I can't tell what they had drunk, but they were surely under some external influence.
They launched a terror campaign - setting houses on fire, killing people, looting household property and animals and then fleeing.
Goats' intestines
We ran away and returned to find goats' intestines left behind in the gardens. They had slaughtered people as well as animals.
On another morning, very early, the Balega returned with machetes and spears, shouting "We have surrounded you. You cannot escape. We are going to finish you."
They said we had become rich, proud and contemptuous towards them.
Hiding in the bushes
At the time, I lived with my cousins: Kyaligonza, seven, Kisembo, 10, and Nyakato, five. I ran to a nearby bush but I could see what was happening.
Kisembo tried to follow me, but was speared in the side. As he fell to the ground, a Mulega (a single Balega) approached him and cut his throat. The other two children were then tied up in the house and forced to tell where their elders had gone.
They started walking with the attackers towards my hiding place. Meanwhile, I crept further into the bushes.
Slaughter
On failing to find me, the Balega slaughtered the children, dragged their bodies into the house, set it on fire and left.
In the house next to ours, they killed a pregnant woman, two old men and a 15-year-old girl, and then set the house on fire.
We returned to Njugu two days later to find charred bodies; Nyakato's liver had been removed and taken away.
Leaving for good
The Balega returned once more, forcing scores of us to flee together. I walked not knowing where my wife was. She fled to upper Bunia, I ran to the south with my brother.
I still don't know which direction my father took, or if he is alive. We walked a long distance with strangers, each of us vowing to leave the village for good.
No money, no strength, no food
We crossed into Uganda at a place called Gogoro. We met Ugandan soldiers who escorted us to a place called Ntoroko in Bundibugyo district. When we reached it, I had no money, no strength, no food. We had not drunk a thing during two days of walking, but I was relieved to be reunited with my wife.
"Bagonza!" she shouted on seeing me, "You are here, you are here!"
When we arrived in Kyaka, we were glad that WFP was going to give us food. We try to grow our own, but look - wild pigs have eaten all the cassava we planted this season.
Annie Badibe
Annie Badibe, a 34-year-old mother of nine, was gang-raped by government soldiers after her husband vanished in 2004. She has been living in Kyaka II camp for one year with all nine children.

It's a pity the car could not come all the way. To reach this place you have to walk through a bush. Still, you are welcome – this is our living room (she points to benches made of planks of wood under a massive tree).
My husband used to be a gold and diamond trader in Bukavu. He supplied the rebels with food, and they promised to reward him with diamond-rich land when they took power.
The power never came. Instead, one day my husband returned from Bukavu trading centre and told me that government soldiers were looking for him. He said, "Annie, I need to run to save my life. I don't know if I can, but I will try."
Government soldiers
He left me with nine children, six of them from his previous relationships. That was on June 24, 2004.
Two days later, government soldiers forced their way into our compound and started searching the house, asking, "Where is Michel?" I told them he had left without telling me where he was going.
They kicked me and started tearing my clothes off. They said if I did not tell them Michel's whereabouts, they were going to rape me. They did; five soldiers raped me.
From Goma to Birere
As they left the house, many hours later, they told me they would return in a week and if I had not found my husband by then, they would kill me.
I got the children and told them to pack some clothes. I told them we had to leave. My neighbours gave me a lift in their car to the port of Goma, from where we got onto a ship and headed for Birere.
From Birere, I rented a Fuso truck, told the children to get on and we headed for Beni.
Ambushed by Mayi Mayi
On the way to Beni, we fell into a Mayi Mayi ambush. When I showed them my ID card which said that I was from Ruchuru, they jumped and said that I was a Rwandese spy. They said Congolese from Ruchuru were as bad as Rwandese, whom they hate.
The Mayi Mayi led me to a bush, took my underwear off and started pushing bottles into my vagina. It was extremely painful, and I wept.
Out of pure luck, I recognised one of their men, whom I knew. He asked if I had money, which he then gave to his Mayi Mayi colleagues and pleaded that they let us go.
Fleeing again
When we got to Beni, I was ill. I got treatment from the Bima church and settled there. But after two months in Beni, the Banyarwanda started fighting the Congolese government. We fled again and entered Uganda on August 29, 2004.
We had lived well in the Congo. I studied agriculture at the University of Ifa Yangambi in Kisangani. We had a four-bedroom house, but now we are sleeping on the ground in a mud house here in a refugee camp.
Sharing a mattress

There is one mattress, which I share with Princess, my youngest child, who's three. The rest have to share this bigger room.
At the moment, there are eight of us. The eldest boy Olivier, 18, is studying English and computer technology in Kampala. The second eldest, Patrick, 16, is taking care of his younger brother Gabrielle, 14, who is being treated for a liver disease at the Mulago Hospital.
I also look after an orphan whom the community gave me. I could not reject her.
Life in the bush
Life is extremely hard in Kyaka. The food from WFP is rich, but can you imagine making 12 kilograms of flour last for 30 days? I was given this land to cultivate, but am I expected to cut this bush?
I got a job to teach English and Religious Studies at the government-aided school down the valley. They pay me 60,000 Ugandan Shillings (US$34) per month.
The Ugandan government has assisted us a great deal in giving us land. We're trying to restart our lives, but how do you achieve anything living in the bush?
Singi Bahisha
Singi Bahisha, 44, was driven from his home in Ruchuru, North Kivu, by a land dispute which saw his brother and his family burned alive. He has been in Kyaka II camp for five months with his wife and eight children.

My father had two wives. My mother had two children and the other woman had five. Before my father died, he divided his land equally between the two women.
After his death, my half-brothers and sisters started hounding us, saying our father had divided the land unfairly because their mother had more children than my mother.
Hand grenade
One night they came to my brother's house, next door to mine, and set it ablaze with a hand grenade. My brother, his wife and their three children were inside. They all perished.
We crept out of our house in the middle of the night; my wife, our seven children and me. We did not return. Instead, we walked a long way until we got a car to Goma.
We stayed in Goma for some years, with my half-brothers still pursuing us. I would see them in the town at strange hours in strange places.
Warning
One day they held a meeting to discuss how they would kill us too. A young relative of theirs betrayed them, and came and warned us not to sleep in our house that night.
We took off at about 1600 and walked until we reached Uganda. My wife had just had a baby in Goma. It was extremely hard for her to walk, but we made it.
We appreciate WFP's assistance here in Kyaka. You cannot complain because when you are a refugee, you take whatever you are given.
Tilling the land
At the moment my children are in school. My wife has gone to the health centre. The pain that started as we walked to the Ugandan border persists. Also, she is not used to working hard in the fields; she frequently has to get treatment because we need to till the land.
My wife was a businesswoman in Congo, selling beans to large food traders. I was a carpenter. If only I could get tools to work again…
But that would have to be elsewhere, not in Kyaka. We do not feel safe here. I have seen people who were friends of my half-brothers hanging around. They could attack us at any time.
Buza Lolongidu
Buza Lolongidu is a 46-year-old Congolese whose wife and five children were beheaded. He has been in Kyaka II camp for five months with his remaining daughter.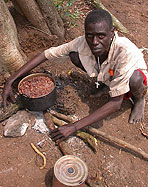 It's a pity I have no chairs for you - maybe we should sit on this tree trunk? Those are beans; I mix them with maize grain. We take them like that – my daughter and I. At the moment she is at school.
I come from a village called Njugu in South Kivu. We fled because the Lendu came and killed my wife, Benike, and our five children.
Spears and machetes
They arrived at night, forcing us all to flee into the bushes. They had spears and machetes. One man shouted, "You Gegere (Buza's tribe), this is not your land." Then he set a row of houses on fire.
When I returned, I found six headless bodies belonging to my wife and children (he stops and almost breaks down). Their heads had been taken away.
The Lendu varied their tactics: sometimes they came in the morning, other times they came at night. It was wise to leave.
New attacks with guns
My surviving daughter and I walked with a group towards Kyomya and settled there. But when the Lendu heard that many Gegere had relocated to Kyomya, they launched new attacks, this time with guns.
We walked once again, towards the Ugandan border. We hired canoes to cross Lake Albert. We collected money; whoever had some gave it to the canoe owner until we had all crossed into Uganda.
Cold all the time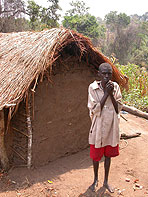 Life in Kyaka is extremely difficult. I am always sick – I feel cold all the time. I went to the community health centre supported by the UN's refugee agency in Bujubuli, but the medicine they gave me did not work.
Look, I sometimes make a light fire in the house. I don't have shutters, so it gets really cold at night.
Shorts wearing away
I have no money at all. Sometimes I think of going out to beg, but no one around here has anything to offer. In the Congo I was doing business – I had a small shop selling clothes and other household items. I also sold cattle.
The Lendu came and looted everything. I wear this pair of shorts everyday. They are all I have and they are wearing away.