From West to East, some 1.5 million people have been caught in Africa's worst floods in decades. Use our quick guide to see how WFP is responding, region by region, country by country.
FLOOD OVERVIEW
Floods across Africa are reported to be the worst in decades in some places and extend in an arc from Mauritania in the West to Kenya in the East. At least an estimated 1.5 million people are so far affected.
United Nations World Food Programme (WFP) teams have fanned out across the region to distribute food to flood victims in several countries. WFP is working together with governments and other aid agencies to assess needs and respond swiftly, drawing on emergency stocks and bringing in helicopters and boats where necessary.
Funds, especially cash, are urgently needed for several WFP operations, including in Uganda, where WFP needs a total of $65 million to continue feeding 300,000 flood victims as well as refugees and displaced people for the next six months.
WEST AFRICA
West Africa is experiencing some of its worst floods in ten years. According to OCHA, 500,000 people are affected by heavy rains and floods in 18 countries.
WFP rapid assessment missions are currently evaluating needs in Ghana and Togo because of the heavy rains and flooding that have caused widespread damage to crops an infrastructure and forced large numbers of people to flee their homes.
Urgent food assistance
In Togo, 60,000 people are in need of urgent food assistance, according to preliminary assessments, but figures could be higher as information from inaccessible areas is being collected.
Heavy rainfalls in Northern Togo have washed away a significant portion of cultivated land, over 30,000 houses have been destroyed, as well as 6 dams. The government of Togo has reported the death of 20 people.
WFP is starting a first emergency food distribution today in the Tandjoare district, near Dapaong in Northern Togo. Some 40 tons of maize will be distributed to 6,000 people whose houses and crops have been destroyed, and to pregnant and nursing mothers. In total, WFP estimates it needs US$ 1.4 million or 2,300 tons of food to give two-month rations to people affected by the floods in Togo.
Assessment team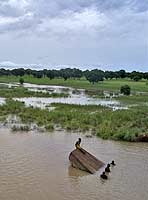 Young men swim to safety in floodwaters in Ghana's Upper East Region.
In Ghana, WFP is part of a UN Disaster and Assessment Coordination team that will survey the flooded area and prepare for an emergency operation. So far it is estimated that 75,000 people are in urgent need of humanitarian assistance including food, clothing, blankets, cooking utensils, canoes or boats, mosquito nets and water purification tablets.
Many people are sheltering in schools and vacate them during the day to allow children to study and come back at night. Flood waters have started receding in some areas, but access to many locations in the Upper East region is still impossible by road.
Humanitarian hub
The United Nations Humanitarian Depot, managed by WFP and based in the Ghanaian capital Accra, is a humanitarian hub of relief supplies for all UN agencies and NGOs responding to the floods. Some 60 metric tons of high energy biscuits are ready to be dispatched to the most affected people.
In Mauritania, floodwaters covered most of the city of Tintane in August, destroying public and private infrastructure. WFP set up mobile warehouses and opened six supplementary feeding centres for 300 malnourished children under the age of 5 and 120 pregnant and nursing mothers.
WFP support in Tintane complements aid from the government and other UN agencies. More distributions are planned for the end of September.
In Niger, WFP distributed food for 4,550 people affected by the floods and for 15,000 people in Mali in August.
EAST AND CENTRAL AFRICA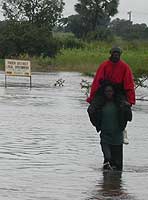 Wading through floodwaters in Pader district, northern Uganda.
In Uganda, widespread flooding currently affects at least 300,000 people, and the numbers could rise. WFP teams are on the ground distributing food in flooded areas to thousands of people in need. So far, WFP has delivered 526 metric tons of food to 31,946 people.
However funds are critical. WFP needs US$64.6 million to feed up to a total of 1.7 million people in Uganda until March, including flood victims, refugees, and people displaced by conflict and civil strife.
Helicopters, boats, bridges
In addition to food, WFP needs contributions for helicopters, boats and emergency repairs to bridges so assistance can reach people in villages cut off by the rising waters. With rains forecast to continue through October, access could become even worse in the flooded Teso, Lango and Bugisu regions. WFP has brought in one helicopter to assist with the flood response operation.
Heavy rains through the normally dry months of July and August have damaged crops even in areas that are not submerged – crops of potatoes, millet, and cassava rotted while beans were stunted.
Some of those forced from their homes by the floods had only recently returned from years living in camps for the displaced in northern Uganda, where they had been sheltering during years of conflict between the rebel Lord's Resistance Army and the Government of Uganda.
SUDAN
In Sudan, some 500,000 people have been directly affected by floods, and at least 200,000 are homeless. Some 113 people have died. Since the beginning of July, torrential rains have caused flash floods in eastern and southern Sudan, which many local people say are the worst in living memory.
The states most affected by flooding are Blue Nile, Gedaref, Gezira, Jonglei, Kassala, Khartoum, North Kordofan, Red Sea, Unity, Upper Nile, and White Nile.
An estimated 42,000 hectares of crops have been lost and at least 12,000 head of livestock. There is a risk of epidemics breaking out, such as acute watery diarrhoea (AWD), which has already killed 57.
Flash appeal
A flash appeal for $20.2 million was launched by the United Nations and its partners in support of the Government of Sudan at the end August.
So far, the UN and non-governmental organizations have provided clean water to more than one million people and emergency shelter to 200,000. WFP has delivered food to some 89,000 flood-affected people.
ETHIOPIA
Distributions of food assistance to more than 60,000 flood victims across Ethiopia have started, amid some overcrowding in temporary shelters and threats of an outbreak of water-borne diseases. Floods in northern, western and southern Ethiopia have affected some 183,000 people.
WFP is part of a government-led assessment team travelling to three flood-affected regions to determine the extent of needs following the recent flooding and its longer-term impact.
Seasonal floods
The seasonal floods have occurred in Amhara, Afar and Tigray in northern Ethiopia, in Gambella in the West and in SNNP in the South. A total of 42,000 people have been displaced. Some are living in temporary shelters such as schools and mobile health clinics or under plastic sheeting. Others have been taken in by relatives or friends.
The Government has sent 1,400 metric tons of WFP food, including grain, vegetable oil, biscuits and enriched blended food to assist more than 60,000 people. The Government and aid agencies have also dispatched additional food and non-food items such as tents and cooking utensils.
At least 17 people have died so far, while some 4,000 head of livestock have been drowned or washed away, and 34,000 hectares of land has been damaged.
RWANDA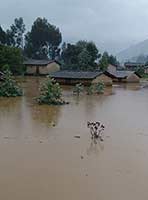 Flooded village on the main road from Goma to Kigali in Rwanda's Gisenyi district.
Torrential rainfall in northwestern Rwanda has left at least 15 people dead and damaged homes in at least 10 villages, leaving 7,000 people homeless.
WFP carried out a rapid field assessment last week and the government and aid agencies are carrying out a more detailed assessment. WFP is ready to assist if the government requests.
Flood victims
The government says it can meet the food needs of the flood victims for the first two months. However more contributions for assistance will be needed because people who have lost their homes and crops may need food aid for at least six months.
WFP already works in the affected area, at the Nkamira transit centre for refugees from the Democratic Republic of Congo. WFP also assists several nutrition centres in nearby areas and may increase its support through these centres.
WFP together with the government is looking at possibilities for food for work projects such as tree-planting, to help flood-affected families, while at the same time combating the soil erosion that can worsen the damage caused by flooding.
KENYA
Heavy rains flooding lowland areas from August in western Kenya, in Budalangi, has reportedly displaced some 1,700 families. Aid has come from the government, and NGOs. The Nzoia River has overflowed, submerging homes and farmland.
In the arid and semi arid lands of Kenya served by WFP's emergency operation, heavy rains have cut road access in the Samburu region in the Northeast. But flooding has not yet been reported.
Forecasts
However, Kenya's short rains season is not yet properly underway, and long-range forecasts for the October-November rains point to a greater likelihood of below average or average performance. Across much of Kenya, the mid-year long rains season was below normal.
In 2006, exceptional rains from October to December caused serious flooding across large swathes of Kenya, cutting access to other areas. WFP mounted a special air operation to move food and non-food aid to people in villages stranded by the floods.