Food aid is vital to keeping destitute, HIV-positive parents and their children in Nairobi slums alive and together longer. WFP spokesperson Anja du Toit reports.
Food aid is vital to keeping destitute, HIV-positive parents and their children in Nairobi slums alive and together longer. Even the lucky ones receiving antiretroviral therapy need comprehensive care packages to ensure they reap the benefits of the medicine. WFP spokesperson Anja du Toit reports.
"If I was given a wish, I would wish to have enough food and medicine to raise my 10 children," says 36-year-old Monica Mwakili, who is HIV positive and whose husband died of HIV/AIDS five years ago.
Five of her own eight children are HIV positive. She adopted two orphans after her sister died of the disease.
"My son Paul fell sick with AIDS and I spent all my money on medicine and he still died one month ago.
"Now my 2-year-old son is very sick. The people giving medicine have no food to give us," explains Monica, who blames her sick child's paralysis and blindness on him being given antiretroviral drugs (ARVs) without food.
Food support in the slums
I am so scared of dying before my children. I have three. The oldest is eight and the baby is just 16 months

Mama Medina Yahaya, 30-year-old bedridden mother
Monica is one of 40 mothers who every Friday walk to Stara Primary School in the Nairobi slum of Kibera, one of the biggest slums in sub-Saharan Africa, to receive two kilograms of rice provided by private donors to help her and her 10 children through the weekend.
During the week, however, the only food support she and her family receive is what WFP provides to four of her children who are old enough to attend the primary school.
They receive a free lunch and mid-morning porridge every school day, but she and the babies at home have nothing to eat.
Smuggled lunches
This is the scenario for many HIV-positive parents, in Nairobi slums and throughout Africa, that WFP would like to support but cannot raise funds to do so.
At Stara, stories like Monica's are abundant, and children often try to smuggle their lunch home to share with siblings and sick parents; many handfuls of cooked and smudgy beans and maize leave Stara stuffed in school bags and pockets each day.
Poor, HIV-positive parents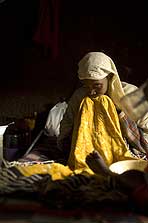 Mama Medina Yahaya
Being poor in the developing world is very difficult, but being poor, HIV positive and a parent of young children living in a slum is hell.
However, that is the miserable reality for hundreds of thousands of slum dwellers in Nairobi.
"I am so scared of dying before my children. I have three. The oldest is eight and the baby is just 16 months," says 30-year-old Mama Medina Yahaya, emaciated and frail from being bed-ridden for the past six months.
"Nobody will be there to look after them. I so want to live for them," she says.
Debilitating stress
The irony is that the stress these destitute and infected people endure in trying to feed and keep their children and themselves alive is slowly killing them.
In developed nations, where patients infected with HIV/AIDS are readily given treatment for the disease, it has long been accepted that stress adversely affects the immune system - a belief as old as the disease itself.
HIV-positive patients are routinely advised to eliminate anything from their daily lives that increases stress.
Sustained survival stress
In his article entitled 'Coping with Stress', Dr. Jeffrey M. Leiphart, Director of HIV Prevention Services at the University of California San Francisco, explains the types of stress that are most debilitating.
"We now know, for example, that profound psychological stress can suppress immune function and thereby accelerate disease progression in HIV-positive individuals.
"This is particularly true of what psychologists call sustained survival stress - which is defined by its duration (longer than four to six months) and by its nature (related to safety, security, or survival issues)," writes Leiphart.
Unimaginable choice
When the parent is sick, the children are sent into the streets to look for food. Many of them end up being raped in the process.

Josephine Mumo, manager of Stara Primary School
While little has been done to study the survival rate of poor, single, HIV-positive parents like Medina and Monica, who live in slums and for whom every day is a struggle to survive, one can surmise from the writings of Leiphart that they are in particular danger.
These infected parents face a choice that many in the developed world would find unimaginable: whether to send their young children out onto dangerous streets to beg and search for food, or to send them to bed hungry night after night, having had just one decent meal provided at school.
Stinking poverty
Slum poverty is unforgiving. It literally stinks.
Every day, children living in the slums play in ankle-deep human waste, because the lack of toilets forces people to defecate in shopping bags, tie them in knots and throw them into the narrow alleys between squalid mud houses.
Research has shown that children living in a Nairobi slum are 14 times more likely to die before the age of five than children living in rural Kenya.
Girls between the ages of six and 12 are most vulnerable to crime and violence, with a 60 percent chance of being abused.
School feeding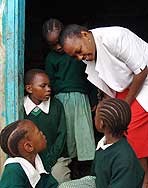 Josephine Mumo, founder/manager, Stara Primary School
WFP's school feeding programme in the slums goes a long way towards getting children off the dangerous streets and into classrooms where they can learn on a full stomach. But more must be done to ensure that food is also on the table at home.
"When the parent is sick, the children are sent into the streets to look for food. Many of them end up being raped in the process. And the parents know that," says Josephine Mumo, founder and manager of Stara Primary School.
"They are suffering every time they have to send their children into the streets. But what can they do? If the sick parents could get food, they could recover, live longer and look after and protect their children."
Children under attack
Peris Awour, another HIV-positive widow with seven children to care for, describes how her children have been attacked while trying to help provide a daily meal.
"We did not have food at home so in the evening both my daughter and my son would go looking for food," she says.
"My daughter was raped many times. She is now HIV positive and has a child."
Brutality
It's not only the girls who are attacked. Peris' 10-year-old son was also a victim of brutality while on the streets.
"My son was captured one evening by two men who sodomized him in turns day and night until one day, two weeks later, he managed to escape.
"I reported the case to the police and the men were caught, but they were later released only to repeat this violent act."
Trading sex
Not only does the lack of food on the family table put children at risk of abuse and contracting HIV as they are pushed to beg for a meal, but mothers of hungry children are pushed to trade sex for food or money.
Monica Ombasa, 25, is an HIV-positive mother of two. As the only breadwinner in the family, Monica confesses that she goes out three times a week 'looking for food' by trading sex.
She is paid less than a US$1 for her services.
"What can I do?"
"I am aware that I am spreading the virus, but it is impossible to ask the men to use condoms. I don't dare tell them I am positive. They would kill me," she says.
"If I had food for my children, I would not have to go to those men. But what can I do? We are hungry."
Potential for change
Students at Stara Primary School in the Nairobi slum of Kibera
Many of the children of HIV-positive parents are not infected and - with the help of concerned supporters and local governments – could potentially break the AIDS cycle.
Every child is a potential for change, and it is through education that poor children are empowered and are enabled to take command of their lives and make better decisions.
Dropout rates
In Nairobi slums, dropout rates are higher than the Kenyan average; only 37 percent of people living in the slums complete primary school as compared to 95 percent nationally.
To make a drastic change in the slums, there is an urgent need to provide food, education, health care and security for the children.
A mother's love
With proper financial support, WFP take-home food rations to children whose families are affected by the disease could help keep parents alive and healthy as long as possible – which would be a giant step in the right direction. They are, after all, the best protectors of their own children.
"The orphans that move into another family become second priority. They become workers in the house; some mind the babies instead of going to school. Others are sent to beg," explains Mumo.
"They don't get clothes or an education, and some don't even get food. Nothing can substitute a mother's love."