'Haiti can't wait': People on the brink as hunger levels rise, warns food security report
Gaining access to hunger hotspots in Port-au-Prince is progress that, without robust donor support, will be tragically undermined, says World Food Programme country director
, Peyvand Khorsandi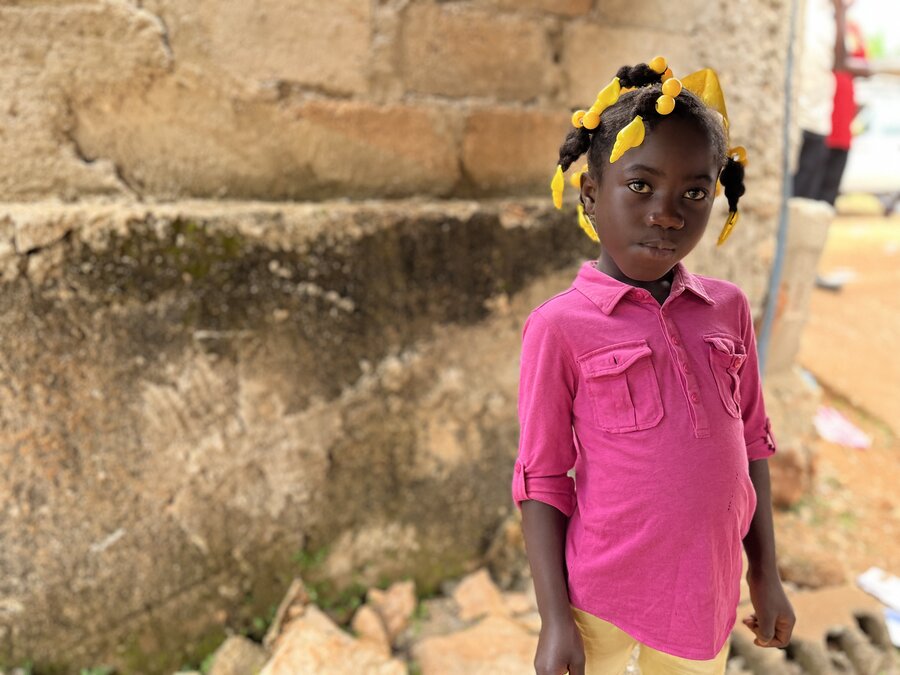 Good news comes with a catch in Haiti. Of course, it's good news that the 19,200 people who faced 'famine-like' conditions in October no longer do. This was against the odds, with the World Food Programme (WFP) working with its implementing partners to reel people back from the brink, gaining access to Cité Soleil.
Hunger levels remain extremely worrying however. This impoverished part of Port-au-Prince, home to around 100,000 people, is where the rivalry of armed gangs, which have overrun most of the capital, regularly finds its most violent expression. This severely reduces the access of residents to jobs, food, fuel and any semblance of a life free of terror – a terror that is visible in Nerlande's eyes. "Look at my belly," she says. "I haven't eaten for two days."
Nerlande has six children whom she is raising on her own. "Bandits left with my husband and killed him," she says at a distribution in the Brooklyn neighbourhood of Cité Soleil. 
When things get really bad, she is forced to "ask for charity" in the streets. Her eyes well up as she says the food she receives from WFP is a lifeline, adding "may God bless you" to NGO staff so they can be safe from "bullets when you bring us food".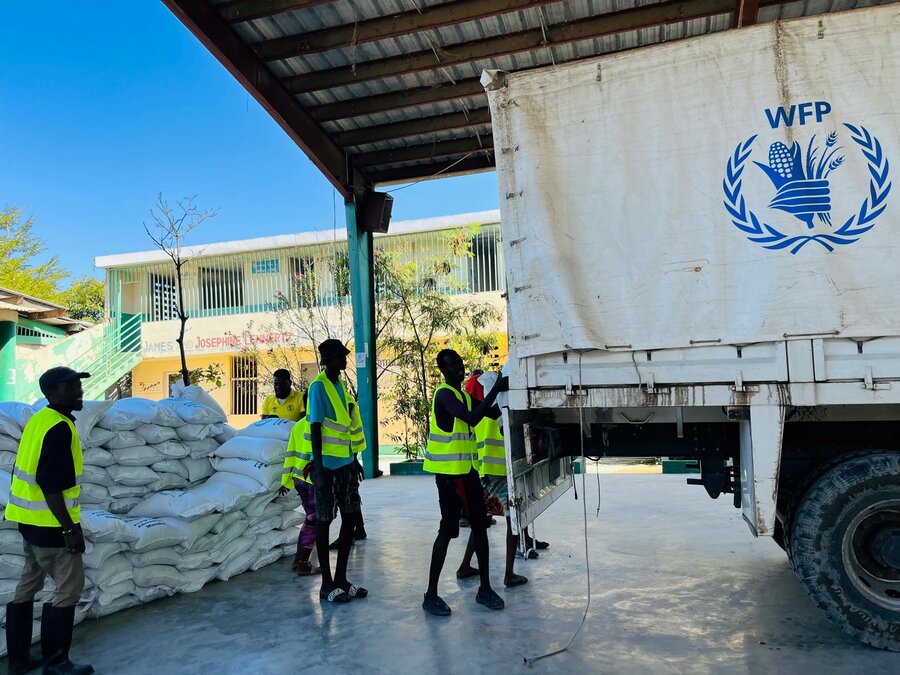 Since October, WFP has carried out more than 60 distributions in Cité Soleil. 
Jean-Martin Bauer, WFP's Country Director for Haiti, recognizes this as a pivotal moment but is all too aware that it can also be a fleeting one – the latest figures from the global standard for measuring food insecurity (the Integrated Food Phase Classification or IPC) present a "fragile victory", he says. 
A record 4.9 million people are projected to be in acute hunger (IPC3 and above) in Haiti – that's nearly half the country, including 1.8 million people in 'emergency' phase (IPC4).  
"We have done everything we possibly can to bring vital food support to Cité Soleil," says Bauer. "But we all know the situation remains fragile, and earlier this month shooting prevented us from doing our important work in the neighbourhood. The fighting must stop, yes, but we also need the food to arrive and for that we need funds."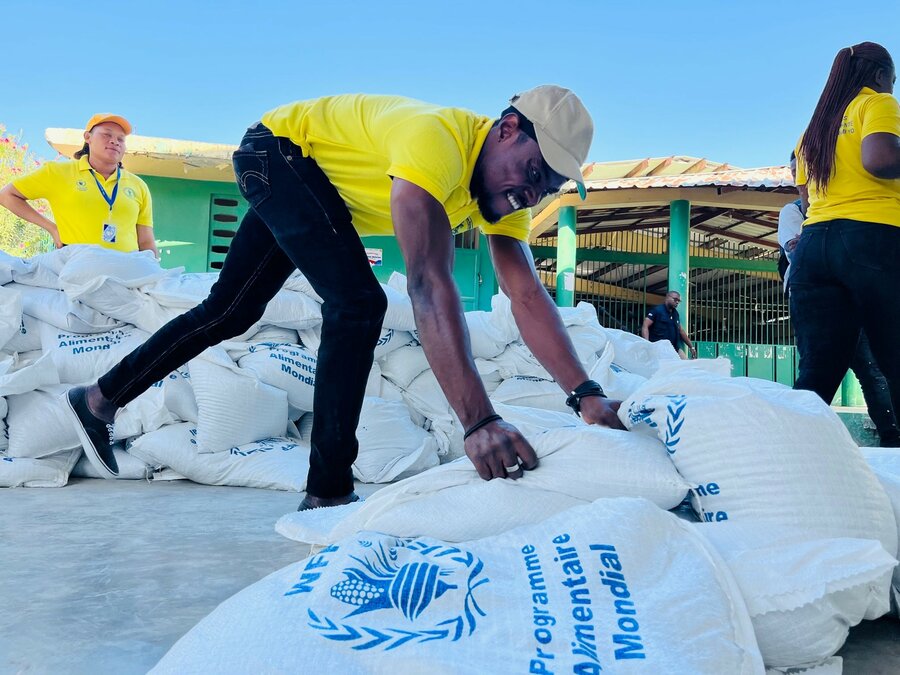 "We need US$125 million over the next six months and our donors are simply not stepping up," he adds. "If funding doesn't come through, the next IPC figures will be much worse."We can't afford to let this food crisis fester at a time of political, and security, fragility. Just this week MSF [Médecins Sans Frontières] closed its hospital in Cité Soleil, and fighting has resumed." 
The growing crisis is severely impacting the health and nutrition of Haitian children, who have limited access to nutritious food. This is compromising their development at an early age, which can lead to lifelong health issues. 
Soaring inflation and impossibly high prices continue to compound misery for Haitians, many of whom are unable to afford a basic meal. Haiti is among the ten countries worst-affected by food-price inflation, according to the World Bank. Eight out of ten people are currently reducing the size and number of main meals they consume.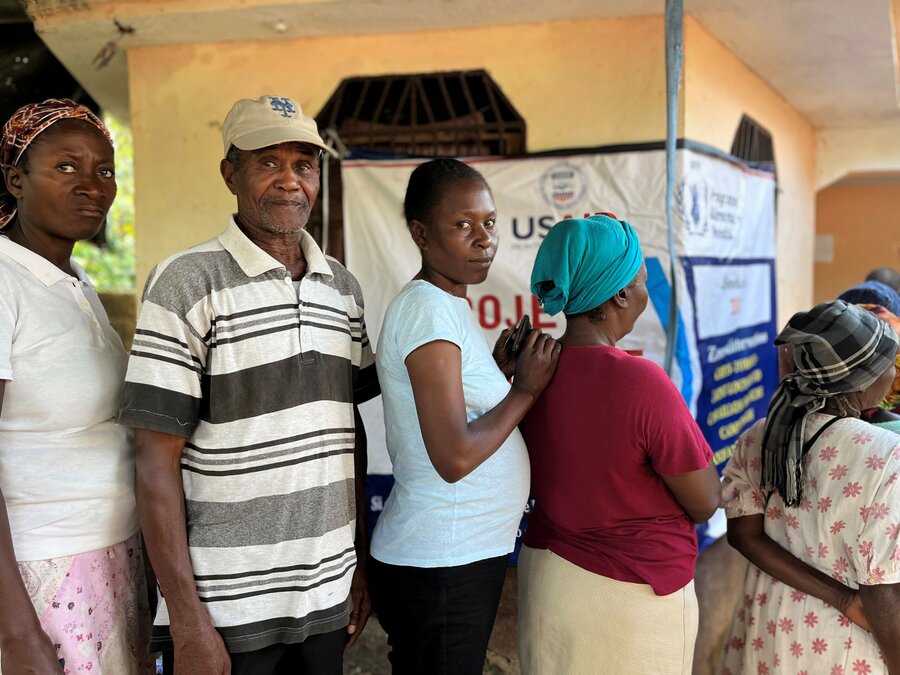 Inflation currently stands 47 percent, up on 38.7 percent in December. By January, the price of a food basket had risen 88 percent on the year before, while the Haitian gourde was down 45 percent against the US dollar. 
A continuing shortage of petroleum products poses a serious bar to economic activity while the economy is expected to contract for the fifth consecutive year in 2023. Fuel shortages are having a deep impact on healthcare and sanitation, and limiting logistics and transport.  
"Gaining and retaining access to people in need across Haiti is a tightrope walk with WFP's limited resources – we desperately need an increase in funding and political will."
"The world cannot wait for a big disaster before it acts," says Bauer. "Haiti can't wait – we cannot wait for the scale of the problem to be expressed in deaths before the world responds, but that is where we are heading."
Now is the
time to act
WFP relies entirely on voluntary contributions, so every donation counts.
Donate today