'I feel truly blessed being part of WFP.'
From refugee to humanitarian: Masooma's story
, WFP Asia & Pacific
When Masooma talks with refugees and other vulnerable people who receive assistance from the World Food Programme (WFP), it often brings back memories of her own childhood. Masooma's family fled the war in Afghanistan in the early 1980s and settled in Pakistan as refugees, where Masooma was born and grew up.
She counts herself as one of the lucky ones, having parents who were well-educated and who invested in the education of their children. But she still has vivid memories of seeing Afghan refugees in Pakistan being deprived of their basic needs and living their entire lives hoping for support from others.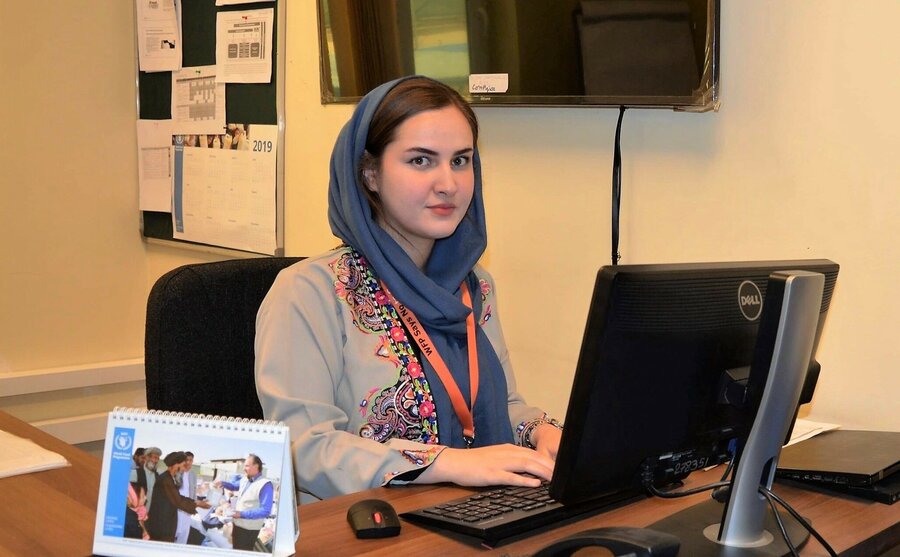 Now a Business Support Assistant in the Monitoring and Evaluation (M&E) team at WFP's country office in Kabul, Masooma sees this as her chance to give back and help empower people — especially women — who may not be as lucky to have grown up with the resources she had.
Tell me a little about your background and the people who have influenced you up to this point in your life.
My family lived as refugees in Pakistan for about 30 years, until we returned to Afghanistan in 2014. I am the oldest child and am very fortunate that my parents had the means to invest in myself and my siblings and make sure we got an education. I went to college and actually started as a pre-med major, but graduated with a degree in business.
When I think about who has influenced me, my mom is the first person that comes to mind. She is the most patient and hardworking lady I know! My father was an officer with the Afghan army and away from home a lot. He would visit us three times a year for three months. In between, my mom would do all the chores and errands and take care of us. She had an illness but worked so hard to give us everything.
I learnt how to be strong and stay positive in every situation and never give up thanks to her. But both my parents have been supportive of my dreams, so I'm very fortunate. I know many women who have been shamed for wanting to go to school and get an education.
And women who work hard in the fields or at home raising kids don't receive any appreciation because it's just seen as their responsibility. I feel strongly that women should be able to make their own choices and am grateful my parents supported me in that way.
What put you on the path to WFP?
After a while, new border restrictions between Pakistan and Afghanistan meant my dad couldn't visit anymore. It was a big shock for us. My sisters and I were still studying in Pakistan so we had to stay until graduation. Then in 2014 we settled in Afghanistan and it was really challenging at first. Life in Afghanistan was so different, more stressful and people had a different way of thinking. Everyday incidents like explosions were normal. It took a while to adjust, but then I got busy with internships and finally I found job with WFP, a place I had only dreamed about! My mindset began to change. I came to realize that I was now being given more opportunities to develop my career, support my family and contribute to my country at the same time.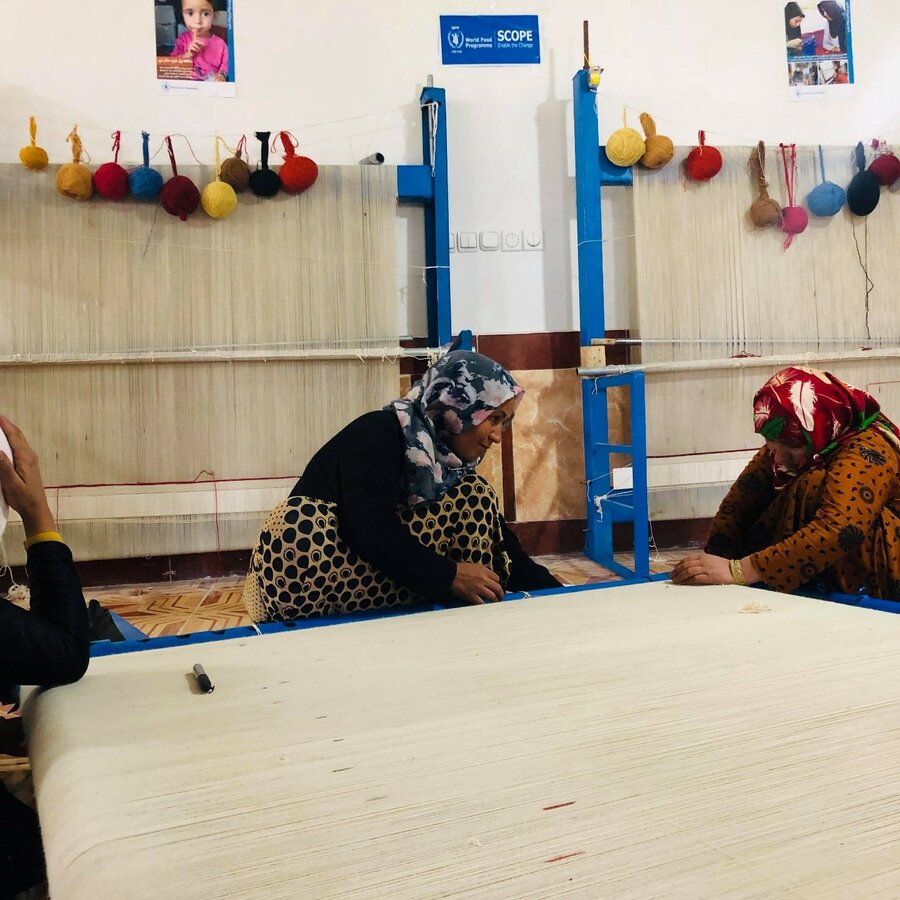 Tell me about your current role
For the past two years, I have been working with mVAM (Mobile Vulnerability Analysis and Mapping), a part of M&E that uses remote data collection to monitor food security. My work focuses on conducting needs assessments so we better understand how to help people in terms of vocational skills training, cash-based transfers, nutrition and things like that.
I also help with post-distribution assessments for M&E where we follow up and see how people are doing after they receive WFP assistance. A lot of this is done through phone surveys. My favorite part of the work is that I am in direct contact with the people we serve, as well as key stakeholders and government agencies all over the country. After the assessments, I analyse the data collected and help to generate reports.
Do you have a specific project that you'd like to talk about?
Recently, I was sent to the western province of Herat for a baseline survey to monitor the project centre that is providing vocational training for carpet weaving. I interviewed some of the vulnerable women about their living conditions, their food insecurity and other information about their lifestyles.
Before this mission, I had conducted probably a thousand mobile phone interviews with people we help across the country, but this was the first time interviewing them in person. These women are very strong, but many would break down and cry when describing their living conditions and struggles. I helped to calm them down and vowed to help empower them and make sure they can live better lives. The happiness on their faces and the little spark of hope that I saw in their eyes was beyond words. It made me feel deep pride to be a WFP worker.
Every single woman in the centre was thankful for our work and explained how the training will make a difference in their lives in a positive way. This was such a rewarding moment to see how our work is actually making a change.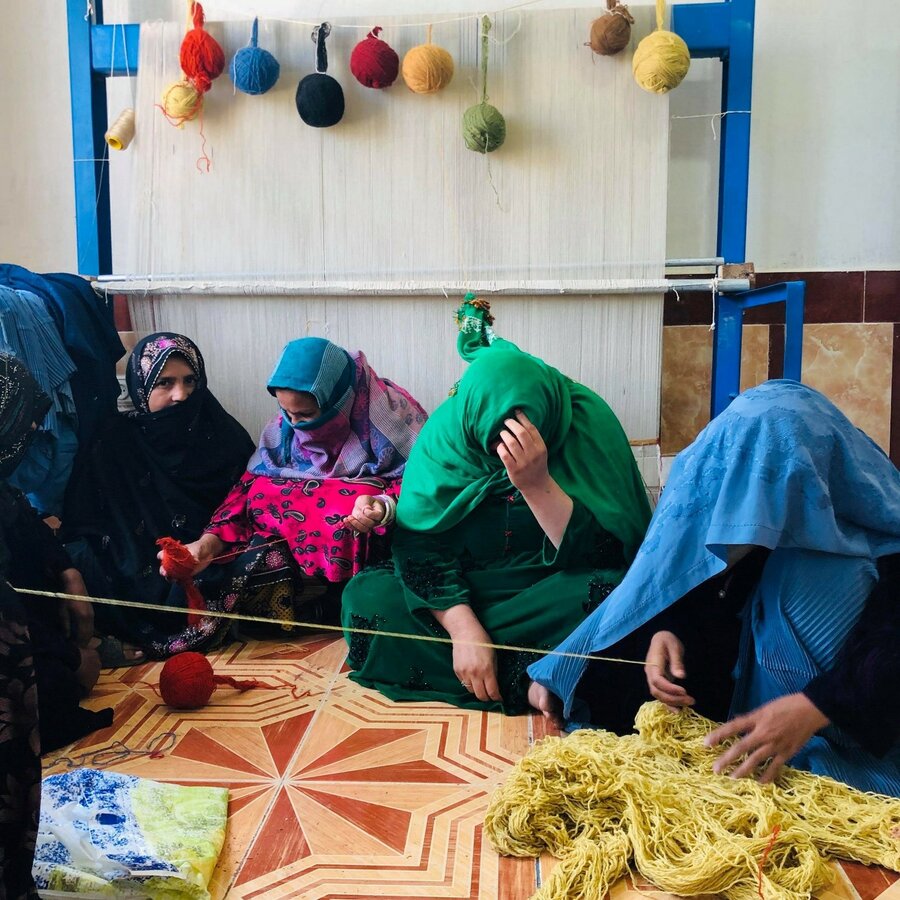 What does being a humanitarian worker mean to you?
Since a very young age, I have felt the importance of serving and helping others. From my time in Pakistan to now living in a warzone country like Afghanistan where every other person is losing loved ones, or is displaced or lacking food and access to water and proper shelter, I feel like every one of us should play our role in contributing to our country and its people. Also, when I told my father that I got a job with WFP, I can't describe how happy he was! He is a big motivation for why I work in this field and has always taught me to stay loyal to my work.
When you think of the future, what gives you hope?
I feel truly blessed being a part of WFP and I am extremely proud that I can play even a small role within the organization, which does so much to help people. I hope I can work for WFP my whole career, but no matter where my life takes me, it will not stop me from working with a humanitarian organisation.
Written by Munira Aimaq and Ann Nallo