In a diary first published on the BBC News website, spokesperson Marcus Prior describes the scenes encountered by a WFP food convoy travelling from Nairobi deep into the Rift Valley.
INTRODUCTION
In a diary first published on the BBC News website , spokesperson Marcus Prior describes the scenes encountered by a food convoy travelling from Nairobi deep into Kenya's Rift Valley.
FRIDAY 4 JANUARY: INTO THE RIFT VALLEY
It was surreal. Most WFP missions to conflict areas pick up their military escorts outside army barracks or on the road heading out of town. This was Nairobi, and two Landrover loads of Kenyan army personnel were waiting for us at the ABC Plaza shopping centre – home to Nairobi's trendiest bar, my favourite coffee shop and the best deli in town. Like most people in Kenya, I couldn't quite believe this was happening.
Our drive north over the Rift Valley escarpment and through some of the most stunning scenery on planet earth was uneventful. Until we reached a place called Burnt Forest, north of Nakuru that was – well – burnt.
In one town, the largest building was torched and gutted, the marketplace razed to the ground, while in a nearby field worshippers held their hands to the sky praying for deliverance from the events that had destroyed their lives.
In Tarakwa, a town straddling the main road south of Eldoret, two church yards were crammed with people seeking refuge. And everywhere the signs of exodus – belongings piled high on the roadside as people waited for any transport they could find to take them out – anywhere, just out.
Then came the roadblocks, most often simply stones and telegraph poles strewn across the road, manned by vigilantes carrying machetes and bows and arrows.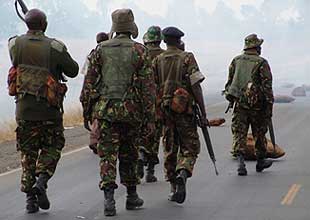 The only guns we saw were carried by the army, busy clearing the road in an attempt to reopen the vital supply line through the country and on to Uganda, the Great Lakes region and Sudan.
The charred remains of several looted trucks did not go unnoticed by our logistics officer – moving food by road was not going to be easy.
The final stretch into Eldoret was spookily calm. On our way in we passed the cathedral – again, every square inch taken by a family seeking safety. No shelter, little food, little water. And it's cold at night here.
For me, it was hotel, beer, bed.
SATURDAY 5 JANUARY: ON FROM ELDORET
WFP normally only distributes a very small amount of food to school children and people affected by HIV/AIDS in this region, but at least it means we have facilities in place, including a large warehouse with significant stocks of food. Before November we never even stocked food here. A stroke of good fortune.
But our supplies are inadequate. There is no cooking oil and no high-energy biscuits – both are on trucks en route to Eldoret which have been stranded due to the clashes which erupted after the election result was declared. We need to get them moving again.
At the warehouse, our loaders are stacking bags of peas and corn-soya milk onto Kenya Red Cross trucks. It is they who will be doing the distributions. It's an encouraging sign - food is already moving to those in need.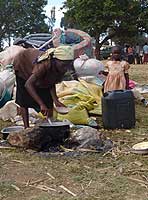 As we leave the warehouse, we have to negotiate our way past a huge convoy of some 20 buses and 50 cars, all heading south out of Eldoret. The exodus driven by fear and intimidation continues. This little part of Kenya is being torn apart.
A little later we head north out of town and on the city limits we are met with another scene of devastation – shops, businesses and houses burnt to the ground. It has been selective – charred shells stand next to other buildings that remain untouched.
At Soy, we find about a thousand people at the police post. They say they fled with nothing, that in many cases it was the condition for being allowed to leave their homes alive before the fires were set. Outside, a bus is being loaded. It will leave early in the morning and head south.
In other settlements where we are told people are living in the open we find nobody. They have either gone home as the situation calms (which local officials repeatedly tell us it is), or headed out of the region entirely.
On our way back we bump into two trucks carrying our HEBs on the outskirts of Eldoret. Even better news is that the vegetable oil is now confirmed to arrive tomorrow morning. We are getting there.
SUNDAY 6 JANUARY: NORTH TO NOIGAM
Again we head north out of town, this time towards a primary school compound in the town of Noigam. When we get there, we find thousands of people milling around the classroom blocks. Most have been forced to sleep out in the open for several days now. They complain they are not eating properly, that they have no clean water and that their children are starting to fall ill. Forty percent of the displaced are estimated to be young children.
There is no food left – it has all been burnt. There are no blankets, no pots and pans. I am dressed the way I came – I have nothing else.

Grace Omariba, aged 26, mother of two
It is tense, too. Under a tree near the entrance lies a body of a woman, the mother of two boys, who was shot and killed in an early morning attack by a marauding group of men, looking to loot the cattle the people had managed to escape here with.
Shortly after we arrive there is a commotion – screaming and a flurry of feet – before the police intervene and a youth with a severely bloodied face is brought into the nearby police station. He is probably lucky to have escaped. The crowd believe him to have been involved in the raid. Later, another young man is targeted in the same way and again the police have to step in. Trust has dissolved into fear.
Attentions are turned by the arrival of seven trucks loaded with food. With a remarkable efficiency under the circumstances, a local churchman organises groups of young men to help with the discharging. Within minutes, maize, peas, HEBs and corn-soya milk is flying from the back of the trucks, piling high on the dusty ground.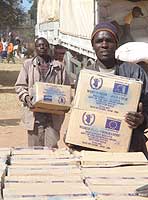 Grace Omariba is 26 and has two young boys. She is educated and eloquent. "There is no food left – it has all been burnt," she told me. "There are no blankets, no pots and pans. I am dressed the way I came – I have nothing else. We are sleeping in the open and there are mosquitoes at night. We need our country to have peace."
As we head off again, we see the slopes of Mt Elgon burning in the distance. "Those are granaries burning," a locally-based colleague tells me. Finding enough to eat will be a battle for many in the months ahead.
Our road home takes us through the town of Kitale. We stop at a petrol station – queues of cars line up, now that the pumps are running again. But we are not here for petrol. We are here to meet three children – their father is another colleague of mine. They came north to spend the Christmas holidays in their family's home area.
Quite some holiday it turned out to be. Their warm embraces and childish delight at seeing their father are a happy end to a draining day.