Asked to name her favourite subject at school, seven-year-old Guivinciane Nguinghaza's response is worth a thousand words. "My favourite subject is corn meal," she whispers through the fingers of one hand, while the other holds on to her father Emmanuel.
Guivinciane is one of over 406 pupils receiving WFP school lunches at Fere Primary School, situated 120 kilometres north of Bangui in the Central African Republic -- one of Africa's poorest countries.
Since WFP started helping the school to offer free meals, children are walking 10 kilometres a day to attend lessons.
Others living as far as 70 km away are being sent by their parents to live with relatives or families in the village so they can benefit from an education and two free meals per day.
"Parents send their children to school now simply because they know they will be fed. The fact that their children will be fed takes a huge weight off their shoulders," says headmaster Constant Nakoua.
Until recently, Guivinciane and her friends preferred work to study, following their parents into the fields, where they were guaranteed a lunch of manioc and mangoes
Despite the fact that Fere Primary School was comfortably the largest and most prominent construction for miles around the children's poverty-stricken village, it had no kitchens to prepare school meals.
Since October 2005, however, WFP's school feeding programme has allowed the school to offer students a free meal at the start of the day and again at lunchtime. The impact has been immediate and startling.
In the first two years, the number of children enrolled at the school increased by 10 percent.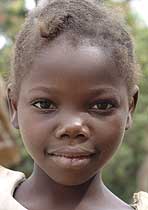 The success of the programme has laid the foundations for a second WFP project in which workers have received food in return for lending a hand in the construction of a new classroom block. Latrines and a kitchen have also been built.
"We used to have to force our children to go to school," says village chief Auguste Malenguinza. "We really hope that this programme will continue as it has made a big difference."