'Our children will eat fruit from our own trees'
World Food Programme helps Afghan women create greener and healthier communities
, WFP Asia & Pacific
In Wakhan, one of Afghanistan's most remote regions, natural disasters and a lack of livelihoods were the biggest threats to families' food security. Here, the World Food Programme (WFP) and its partners started projects that placed women in charge.
"I remember seeing and tasting fruit in Pakistan, but never since I returned to Wakhan," says Muzhgan, the Deputy of her Village Community Council. The young woman in a colourful headscarf spent her childhood in a refugee camp in Pakistan. Like hundreds of thousands of Afghan girls and boys, she fled with her family during the 1979–1992 Afghan-Russian war.
Since 2002, more than 9.7 million Afghans have returned home and started building new lives. Many of them have faced hardships and have struggled to earn an income. They returned to a conflict-ridden country and found that the skills they had gained in Pakistani cities were not in demand in rural Afghan villages.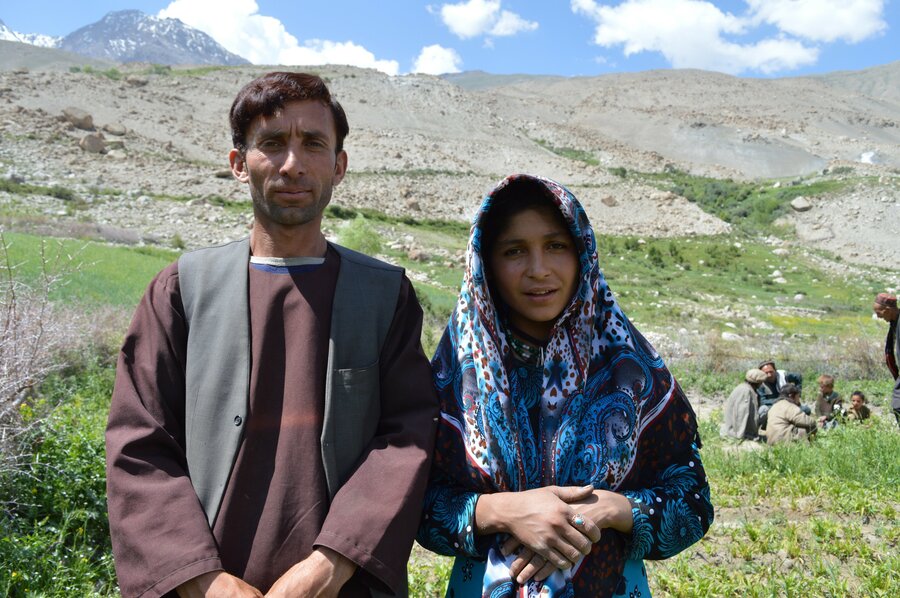 Relying on agriculture and migration to survive
Muzghan and her husband Ramazan live in Wakhan corridor, a narrow strip of land separating Tajikistan and Pakistan. This region is home to the Pamir mountain range, which connects to the Himalayas and is referred to as the "roof of the world". Getting to the center of Wakhan from the provincial capital Faizabad takes days in summer and is impossible in winter. Every year, before winter sets in, WFP pre-positions food and nutritional supplies via Tajikistan, from where access is easier.
The people living here depend on agriculture and livestock as their only sources of livelihood, but the remote location and high altitude make it hard for families like Muzghan's to grow nutritious food. Widespread poverty, food and nutrition insecurity, climate shocks and limited access to services or markets are major challenges. In some cases, lacking other opportunities, young men have left to secure an income in the cities of Afghanistan or in neighbouring countries.
On the path towards food security
Over the past four years, WFP and partner Rupani Foundation have implemented almost 250 asset-creation projects in the most remote districts of Badakhshan, including Wakan. These projects will help families improve their food security, access to water and support their livelihoods for years to come.
More than 17,000 of the region's most vulnerable people — including nearly 5,000 women — were selected to participate and provided with food assistance for up to six months. During this time, they helped to build assets that will benefit their communities, such as water dams and irrigation canals to help farmers to access water year-round, and roads that will allow families to reach markets more easily and sell their crops at better prices.
They also developed kitchen gardens and planted fruit trees so families can access healthy food close to home, and started tree plantations to increase the green cover.
When Muzghan joined this programme, she started planting fruit trees on a plot of land close to her home. She and her husband now care for rows of small trees and cultivate fresh vegetables.
"Years ago, when we returned from Pakistan, there was nothing to do and our men did not have enough work. Now, both women and men are busy in their fields, we have a road to our village, we have gardens and our lives are improving," she says.
Husband Ramazan is happy that his wife now owns a garden. "Our life has improved a lot. We receive food from WFP every month and we work together to grow our own fruit."
"Our children will be eating fruit from their own trees," Muzghan adds.
In nearby Zeback district, Gulbahar owns a small field, where in the past she used to plant hemp. She has now planted 20 fruit trees which she received from the Rupani Foundation, while WFP is supporting her and her family with monthly food assistance consisting of fortified wheat flour, pulses, fortified vegetable oil, salt and specialized nutritious foods to prevent malnutrition in children.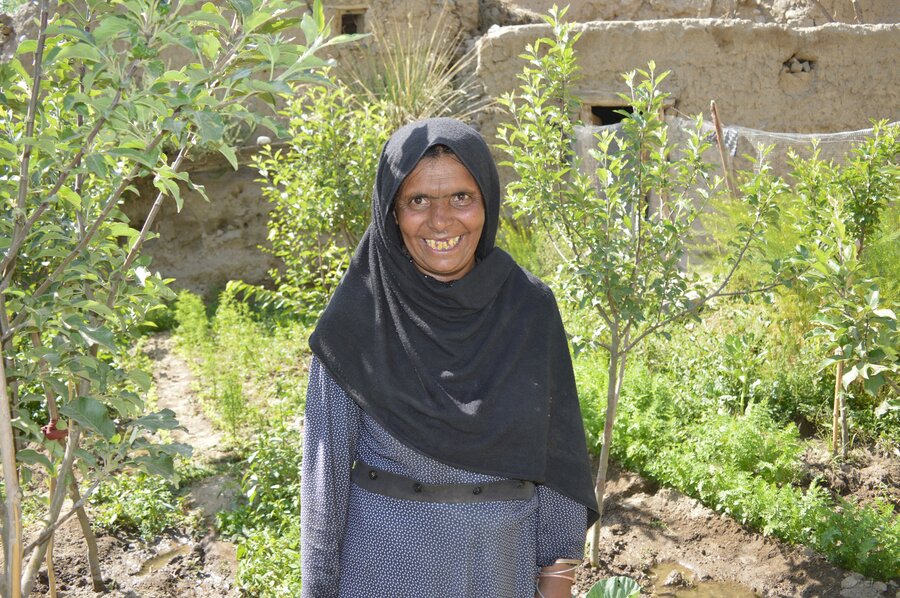 "We never had money to buy food," Gulbahar remembers. "Now we get food regularly and my husband has started helping me to care for the new trees."
A green future
In addition to the fruit and vegetable gardens that have a direct impact on food security and diversity, hundreds of women have also planted tens of thousands of poplar saplings. The fast-growing tree will be a source of income for the women in three to five years. Poplars can be sold for US$ 50 to US$ 60 per piece for construction and are mostly used as beams to hold the roofs of the traditional mud brick houses across the country. The gardens WFP and Rupani Foundation established with the women range from 400 to 500 trees per garden.
The trees are not only a means of livelihood, but also help green the region and absorb climate gases. They are an important investment in the future of Afghanistan, estimated to be the country most at risk of natural disasters due to the effects of climate change across Asia.
Noor Begim is one of the female gardeners selected for the programme. She is married and has an 18 months old son. She received 400 saplings that have already grown taller than herself. "I will sell most of them but I will keep a few for myself so I can build a nice house for my son," she says.