Former child soliders in Afghanistan are being called to lay down their arms ....and take up sewing. Richard Lee reports on a WFP and UNICEF-led project which teaches young men the trade of tailoring to keep them away from violence and on track for a brighter and more prosperous future.
Tens of thousands of former child soldiers in Afghanstan face a struggle to survive. Illiterate and unskilled, they are tempting targets for recruitment by one of Afghanistan's numerous armed groups. So how do you prevent former child soldiers from resorting to the gun? Simple, explains Richard Lee in Kabul, WFP and UNICEF teach them how to sew…
Eighteen-year-old Abdul Rasoul is sitting cross-legged behind a sewing machine, carefully putting the finishing touches to his latest creation – a flowing, beige shirt.
I am trying hard to learn the skills to be a good tailor

Abdul Rasoul
Clustered around him in a dusty courtyard are another 34 young men and boys – all hunched over their own old-fashioned, manual machines.
It looks like a sweatshop but it's not. It is actually a makeshift training centre in a poor village in the northern province of Sari Pul, where demobilised ex-combatants are being taught that there is a possible – and profitable – future beyond the gun.
But the way out of a life of violence could be abruptly barred for these boys and men if WFP does not receive additional donations to allow it to continue funding the training.
Bullets and bombs
Technically, Afghanistan is no longer at war. But conflict rages on nevertheless.
Unprecedented clashes between Taliban-led insurgents and government and international troops, as well as ambushes and suicide bombings have left hundreds dead in recent weeks.
Meanwhile, numerous illegal armed gangs and drug militias roam the country – all too ready to defend their turf with bullets and bombs.
Fresh blood
All these groups are constantly on the lookout for fresh blood such as Abdul.
Young men who have been demobilised but who never had the chance to go to school and who lack the skills to prosper in peacetime – becoming easy victims for poverty and hunger.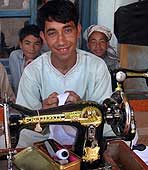 Abdul Rasoul
"During the Taliban time, I was forced to be a gunman," says Abdul. "Then I was demobilised. But I had nothing to do and no way to make any money."
Without any skills, Abdul feared he would return to his violent previous life. But thanks to a joint project run by the United Nations Children's Fund (Unicef) and WFP, Abdul and thousands of previously unskilled and illiterate youths have the chance to grasp a brighter future.
"I am trying hard to learn the skills to be a good tailor because there is only one professional tailor in our village and he gets up to 150 Afghans (US$3) per item," says Abdul, who lives with the other six members of his family in a nearby house.
"If I make a success of sewing, I will earn a lot of money. Definitely enough to care for my family."
Marketable skills
The training programme teaches ex-combatants – as well as other war-affected boys and girls – a marketable skill, such as sewing, weaving or carpentry, while simultaneously ensuring that they attend basic literacy classes – usually for the first time in their lives.
"It was like I was blind before but now I can read and write," explains Abdul, who was never given the chance to go to school during Afghanistan's decades of brutal conflict.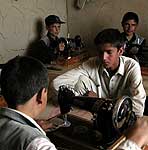 Sewing class
"I can also do addition and subtraction. It will help me so much because I will be able to write down what people owe me."
As insurgents step up attacks and consequently their recruitment drive across Wardak, Abdul's fate could have been very different.
Dire poverty
The dire poverty and growing frustration at the slower than expected pace of development, makes it all too easy to turn to the gun to make a living.
But Abdul and others like him are more likely to pick up a cotton bobbin than a Kalashnikov.
"Learning to sew professionally means that I can make my own money," says eighteen-year-old Shamullah, who spent many years as a child soldier – forced to fight against his will for one of the local commanders.
"After graduating from here, I will be able to open a shop and sew for a living – rather than having to carry a gun."
Powerful incentive
While UNICEF funds the teaching and training, WFP supplies a monthly food aid ration of wheat, vegetable oil, pulses and salt – providing crucial nutritional support for the trainees and their families as well as a powerful incentive for them to attend class.
However, food assistance will not continue indefinitely. The aim of the programme is to promote development and self-sufficiency, so after six months, WFP's aid will cease and all the trainees will have to be ready to fend for themselves.
"The food that we receive is crucial for us and our families but I know that it will stop," says Shamullah, with a broad smile. "But by then I will be able to make enough money for my whole family."
Last to benefit?
But Shamullah, Abdul and the hundreds of war-affected youths currently enrolled in similar training programmes across Afghanistan might be some of the last to benefit from this successful programme – because WFP is rapidly running out of money.
Without additional donations, WFP could well be forced to stop supporting this crucial project in the second half of 2006.
And where will that leave so many other unwilling former child soldiers? Unfortunately, still untrained and illiterate – and with little hope of a better life.
And instead of self-sufficient tailors and carpenters and mechanics helping to boost the development of their communities and the nation as a whole, there will be thousands of poor, hungry and frustrated former child soldiers with families to feed and no legal means of doing so – the perfect recruiting pool for insurgents and other armed groups.
And as long as there is a steady supply of new young recruits, the war – or rather the conflict – will go on.