Global food prices are rising, putting even basic commodities beyond the reach of the world's poorest people. WFP spokesperson Trevor Rowe says the most vulnerable people in Central America have been hit hard by economic forces beyond their control.
Global food prices are rising, putting even basic commodities beyond the reach of the world's poorest people. WFP spokesperson Trevor Rowe says the most vulnerable people in Central America have been hit hard by economic forces beyond their control.
"Of course I am happy when I eat. When I'm hungry, my stomach hurts, I don't feel like playing, I don't feel like doing anything," eight-year-old Jorge Luis Hernandez explained to a visitor as he sat outside his dilapidated hut in the highlands of El Salvador.
It was early afternoon, and all Jorge Luis had eaten was a small portion of rice that morning, before going to pick coffee in the nearby plantation to support his family.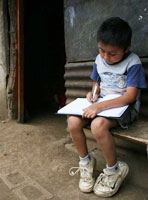 Jorge Luis Hernandez
Luckily, Jorge Luis would be attending the afternoon session at school where he would receive a full meal of rice, beans and tortillas, his only real meal of the day, provided through the very successful national school feeding programme supported by WFP.
Jorge Luis is one of the lucky ones. The lives of millions of Latin America's poor are being brutally wrenched by global economic forces far beyond their control and which threaten a nutritional crisis of major proportions.
Smaller portions
As food prices have surged, the most vulnerable have seen dinner-table portions grow smaller, calorie intake decline and basic nutrients reduced.
"At this stage it is still premature to provide figures, but we fear a deepening nutritional crisis among the poorest segments of the population, those already food and nutritionally insecure," says WFP El Salvador Country Director Carlo Scaramella who is coordinating a regional study of the impact of recent rising prices in the Central America.
"At the same time, what we are seeing is the emergence of a new group of nutritionally and food-insecure people among the poorest strata of the population.
"These people have seen their access to food diminish as a result of the rising prices of basic commodities like corn, wheat, rice and beans. It's a new phenomenon that may likely affect many people across Central America," he said.
Deeper under-nutrition
Initial estimates are that as a result of the recent skyrocketing market prices, the actual calorie intake of an average meal in rural El Salvador is today roughly 60 percent of what it was in May of 2006.
"This inevitably means the risk of new and deepening under-nutrition, as well as potentially a setback in the overall anti-poverty strategy in the country," says Scaramella.
For WFP the challenge is enormous. The rise in global grain prices, which have increased by an average of 72 percent in the past six years, means that as long as the organisation's budget remains the same, there will be less food, this at a time when the number of hungry people is increasing.
Prices doubled
The situation has been particularly harsh in Central America where in the past year the prices of wheat and corn have nearly doubled. The price of beans, a key staple, has also reached unprecedented levels largely due to unfavourable weather conditions.
The volatility has caused some grain vendors in the capital city San Salvador to not even bother to putting up signs advertising the prices of corn and beans because they change so frequently.
A similar story is played out in neighbouring Nicaragua where the poor are also desperately trying to cope with the reality of less food.
"We're all eating less," says 30-year-old Rosario Ochoa, a mother of four, who shares her small mud and thatched-roof home with her husband and seven other relatives. The adults are coffee pickers, and when they are lucky enough to find seasonal work, they earn about one dollar-a-day.
In Rosario's case, the reduced food intake has meant her body produces less milk to feed her young child.
"We can't afford beans or meat and powdered milk has become too expensive," she says adding that corn, the most basic staple, has gone up 25 percent in the past six months.
More donations needed
In response to the growing crisis, WFP is trying to determine the precise impact of rising prices on the region's poor so that it and local governments can target assistance with maximum precision. It is also urgently asking international donors to contribute more in order to make up for the sharp decline in the organisation's purchasing power.
Among other things, WFP has also increased local purchases to reduce the impact of higher transport costs and help local farmers as well as set up an internal task force at its Rome headquarters to review the best responses.
Globally, WFP also plans to launch a series of consultations with leading experts in the field of hunger and food security. WFP has called for a special meeting with key NGO partners to discuss and develop humanitarian responses.
In announcing the initiative, Executive Director Josette Sheeran noted that the world is entering "a new era of hunger" at a time when the absolute number of hungry people was already was growing.