Stories from tsunami survivors, November-December 2005
One year after the Indian Ocean tsunami of December 2004, WFP continues to provide aid to almost one million people across the disaster zone. These are some of their stories.
For more information, please contact the WFP public information officers below.
Darni: "We still need help", Aceh Besar, Indonesia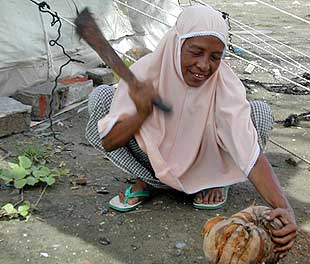 Kneeling in the shade of a palm tree, 50-year-old Darni chips away at the husk of a coconut with a rusty machete.
Every now and then she leans back against her family's dirty white tent and scans the horizon for her youngest son's fishing boat, hoping that today's trip will result in a sizeable – and sellable – catch.
But she knows that a huge haul is unlikely and that her daily hopes will end up being dashed once again.
Smaller boats, less equipment
"My son and the other fishermen catch very little," says Darni.
"They have smaller boats and less equipment after the tsunami. They used to fish with nets but now all they have is hooks."
Soaring petrol prices
We cannot afford food from the market so without assistance we would all be hungry


Darni, Aceh Besar
Meanwhile, the soaring price of petrol is making fishing off the coast of Aceh even less profitable.
"The fuel costs keep increasing and sometimes the catch does not even pay for refuelling the boat," Darni adds.
"Even on good days, the fishermen never make enough money to provide food for themselves and their families.
Waiting for food aid
"We have no choice but to wait for food aid to arrive each month," she says, pointing to a half-empty sack of rice in the small kitchen area at the back of her tent.
"We cannot afford food from the market so without assistance we would all be hungry."
As a family who lost their home to the tsunami, Darni and her sons have been receiving a monthly food aid ration of rice, vegetable oil and canned fish from WFP since February 2005 via its non-governmental organization cooperating partner World Vision.
"The problems are not over"
"After the tsunami, we were homeless and traumatised and had no idea how to get food, and without aid we would have died," says Darni.
"But the problems are not over. We still have no house and no way of getting enough food. We still need help today."
For more information contact: Richard Lee, WFP/Jakarta, tel: +62 811 987 416, richard.lee@wfp.org.
Syarifudin and Syamsidar: a new beginning, Banda Aceh, Indonesia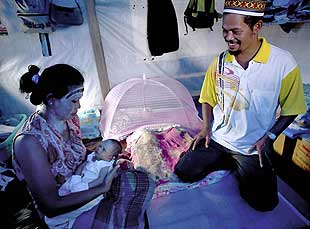 Syarifudin and Syamsidar lost all of their children to the tsunami.
They have photocopied photographs of the six children onto a single sheet of paper which Syarifudin hands out to visitors in the hope that they might bump into one of the children still alive.
Some of the pictures are a little blurred, but the names and ages are clearly labelled: among them are two identical passport pictures of ten-year-old twin girls, and a playful snap of their one-year-old son.
Living in a tent
Almost a year after the tsunami, the couple are still living in a tent in an IDP (Internally Displaced Persons) camp in Banda Aceh as they wait for assistance to rebuild their home.
Despite all this, their small tarpaulin shack was full of laughter in the month of November. Syamsidar had given birth to a baby boy.
At the time their newborn son was photographed he was just seven-days old and they had not yet decided what to name him.
Ferrying goods
To make ends meet, Syarifudin rents a rickshaw and takes orders from people living in the camp to ferry goods to and from Banda Aceh's main market.
The work is not regular and it is only when there are plenty of orders that the trip is worth making.
On a good day Syarifudin can make around 20,000 rupiah (roughly US$2).
Rice, canned fish and cooking oil
At the beginning of each month, WFP rations of rice, canned fish and cooking oil are distributed to the camp where Syarifudin and Syamsidar are sheltering.
Stocked up with the basic necessities, they needn't worry about how to put food on the table and are able to spend Syarifudin's hard-earned cash on other priorities – such as their new son.
For more information contact: Richard Lee, WFP/Jakarta, tel: +62 811 987 416, richard.lee@wfp.org.
A rebuilt road provides hope: Gowdhamunai, northern Sri Lanka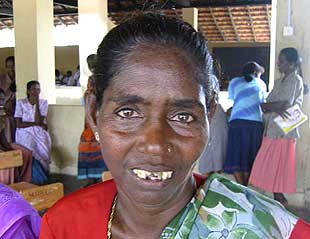 "From November to January every year, the road we are driving on used to be completely inundated. The villagers were totally isolated, deprived of access to health facilities, schools and markets."
Theesan Kanapathipillai, WFP food monitor in Kilinochi district in northern Sri Lanka, explains what conditions used to be like as we drive along the sandy road leading to the village of Gowdhamunai.
Coastal road
The coastal road, now good enough for regular vehicle traffic, was regularly damaged by seasonal rains before being completely destroyed in last December's tsunami.
As part of its Food-for-Work programmes following the tsunami, WFP launched a road rehabilitation project in the area on 15 January 2005, in partnership with the United Nations Development Programme (UNDP) and the local Road Development Authority.
Food for work
With this new road, children can go to school even during the rainy season, where they receive mid-morning meals provided by WFP


Parasathi, Gowdhamunai
Under Food-for-Work, WFP provides workers with food rations to rebuild vital infrastructure, allowing communities to put their energies into reconstruction rather than working to put food on the table.
A total of 17,000 working days were required for the construction of the 16 kilometre-long road. At the same time UNDP provided funding for villagers to buy and transport concrete, gravel, and equipment.
The road was completed in September 2005.
Livelihoods
Gowdhamunai villagers rely entirely for their livelihoods on fishing activities and the marketing of palm tree products including handicrafts and wood for construction.
"Until last year, the children of Gowdhamunai came to study on an empty stomach," says Ahila, a teacher at Vinashiyodai school.
"Most of them are from very poor families that cannot afford three meals a day. Also, many secondary school children dropped out of school during the rainy season, as they did not have transport facilities to go to study in the main town."
Lower prices
"For many years, the rainy season was very bad for us," says Arujunan, a fisherman.
"Because of the bad road, businessmen came to collect our fish, but the price was much lower than at the market."
No access to health facilities
"It was very difficult for all of us, especially the elderly," agrees Parasathi, a single mother of five.
"[Older people] had no access to health facilities when they were sick. Men had very little work during the rainy season.
"With this new road, we have buses that come to the village every day. Children can go to school even during the rainy season, where they receive mid-morning meals provided by WFP," she says.
For more information contact: Selvi Sachithanandam, WFP/Colombo, tel: +94 77 317 8301, selvi.sachithanandam@wfp.org.