Italian fashion group Benetton made a 100,000 euro donation to WFP to mark its 40th anniversary in October. School children in Uganda, whose schools will benefit from the money, drew these pictures and wrote these stories about their violent lives for Benetton's 'Colors' magazine.
The abduction - Samuel Omobe, 13
Sometime late in 2003, I was sleeping in a hut with my grandmother. There was a noise in the compound. The door was forced open and torchlight flashed in my face.
Two young girls caught attempting to escape were brought near us and chopped into pieces by other children ordered to do so
My grandmother pleaded with them to leave me since I was still quite young and an orphan.
I struggled with them and tried to bite one of them. He gave me a strong blow on the back of my head and they pulled me out into the compound.
Threatened with death
There was already a number of children tied together with ropes around their waists.
I was given a heavy load of ground nuts to carry with the warning that if I fell down I would be killed.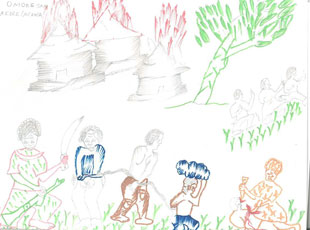 Samuel saw children forced to chop other children to pieces when he was kidnapped by rebels
The following day I was given mortar shells to carry. I refused - they might explode at any time.
There was a man following me from behind so that I didn't throw down the shells. This quite frightened me.
Chopped to pieces
Two young girls caught attempting to escape were brought near us and chopped into pieces by other children ordered to do so.
As the children cut them with pangas and hit them with big sticks, the two girls cried in pain and pleaded for mercy but their cries were ignored.
As it approached evening time on the second day of my abduction, we were walking in a single line. It was getting dark and rain clouds started gathering with thunder.
Abandoned house
I left the line and hid in an abandoned house near where we were passing. Luckily an adult rebel who was with us in our group didn't see me.
In the morning, I tried to trace my way back through the bushes.
In the jungle, I was alone, hungry and thirsty with nothing to eat for three days. I was lost and fed on wild fruits and drank stagnant water.
Bad dreams
I was eventually escorted home with some kind people I found on the road.
I was sick for some days and I still get bad dreams and wake up sweating and shaking.
Even if I am not asleep I get bad dreams. I hear rebels threatening to kill me, I see long lines of frightened children with ropes and hear rebels with guns and pangas ordering them to kill the children. I feel very frightened.
When the rebels came - Richard Opio, 15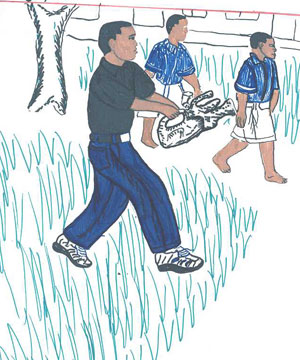 Richard's drawing of a cameraman filming in Uganda
We are eighteen children who were taken by the rebels. There was nothing to be eaten but for things like sorghum, cassava and only contaminated and stagnant water to drink.
Abduction is very bad
Then most children lost their lives because of the fighting and most of the children died because they were hungry.
Running away
Then one night when the rebels were sleeping, I was able to run away to one of the towns.
That is when the army soldiers took me to Sorot town where now my father is also living. Abduction is very bad.
Ending my writings by saying: FOR GOD AND MY COUNTRY.
Losing everything - Catherine Aguti, 14
When the rebels came to our village they took our property, they abducted us, we were taken as prisoners.
As there were very many children in our village they were all abducted and our property taken.
Our family remained as if we are orphans and yet we are not orphans.
As my parents ran where we don't know, we just remained as mad children, becoming street children.
Street children
When my brother understood that we were becoming street children he was not happy.
He then took us to Kampala. When we were taken there the place was good but later on we heard that our uncle was dead, our headmaster was killed and our father was about to be killed, some of our brothers and sisters were killed. We also became sick at the same time.
When we came back we heard that our class teacher was killed.
Trouble
Our school was destroyed and text books were taken by thieves. Our school solar panel was destroyed, our classes were also damaged.
The rebels took us into trouble. We wish that they would not come back.
Alone and falling into poverty - Isaac Choda, 15
My name is Choda Isaac. I was born on July 3, 1991 and my mother left me when I was still young and she left me without my father, my grandmother and grandfather and last year my father also left me when I was 14 years.
Sothort, my mother's uncle brings me to here, Amuria district, and told me: "We shall educate you. Don't worry about your parents which left you alone with your brothers and sister."
Then I also accepted that.
Hate
Now my uncles start to hate me and say that I am not related with them.
I am born with my five brothers and sisters. We are born three girls and three boys. So that my uncles are beating me now badly.
One thing is my uncle refused to pay my fees for boarding school and they telling me: "Go back to your father's home".
You are not related with us here, Alowa, your mother which is related with us is dead. For that I am saying: "It is bad for your parent to die when you still young." I am now a poverty person.
Children's rights - Emmanuel Etibill, 13
First of all a child has rights and secondly I want to define what we mean by children's rights.
Simply children's rights are responsibilities of a child.
Children's rights include the following. I am going to list below:
1) Freedom of speech: me as a child has rights to freedom of speech.
2) Rights to eat: I have a right to eat. If my parents don't give me food I have a right to report them to the police.
3) Rights to education, but me as a child, if I am given rights to education, I am not supposed to waste that right.
4) Rights to choose a religion he wants - but at home our parents don't allow them to choose the religion they want. That might be child abuse.
5) Rights to have shelter, but in our homes they don't even buy for us mosquito nets.
6) Thank you the UN for promoting our rights. May the almighty God bless the work of UN and its agencies. That is the end of what I had to tell you.