WFP is continuing operations in Sudan's Darfur region to address the gaps in humanitarian assistance left by the expulsion of 13 international NGOs by the Government of Sudan.
ROME -- Four of the expelled NGOs (CARE, Save the Children (US), Action Contre la Faim and Solidarites) were crucial partners to WFP in Darfur, where they carried out 35 percent of WFP distributions and reached 1.1 million people, plus 5,500 malnourished children and mothers on supplementary feeding.
As an emergency measure, WFP organised an emergency distribution of two-month rations from 15 March, through local Food Relief Committees and with the help of staff borrowed by WFP from some of the expelled NGOs on a temporary basis. A second emergency distribution is planned for May.
Not ideal, no choice
This is not an ideal response, as it allows only for limited accountability. But WFP has no choice, as people are at serious risk of going hungry or causing major overcrowding problems, with the attendant health risks, by flooding into other camps where there is still an NGO presence.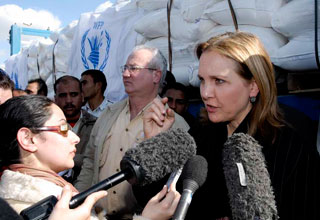 The UN is urging the Government of Sudan to rescind its decision in view of the potential grave impact on millions of vulnerable people in Darfur and elsewhere. Any long-term solution to the problem will require partner NGOs and their international and national staff to be able to operate in all areas, as they did before the expulsions.
There are widespread fears in the humanitarian community that the expulsions may lead to the heaviest reversal for the world's biggest humanitarian operation since it began in 2003 and lead to a humanitarian disaster. WFP Executive Director
Josette Sheeran
described the situation as "a whole new kind of hell for the people of Darfur".
One of largest operations
Sudan is one of WFP's largest humanitarian operations in the world. In 2009, WFP aims to provide food assistance to 5.9 million people in Sudan, including 3.8 million conflict-affected people in Darfur,1.2 million in the South and 900,000 in the rest of Sudan. View photo gallery of WFP operations in Sudan
Despite insecurity in Darfur, such as the hijacking of 110 WFP-contracted trucks last year, WFP and partner NGOs succeeded every month in reaching millions of people in need of food assistance.
WFP's emergency operation plans to provide some 638,000 tons of food to the 5.9 million people at a cost of US$830 million in 2009. In 2008, WFP and its partners assisted more than 6 million people in Sudan – 65 percent of them in Darfur.