Insecurity is increasing across Afghanistan as insurgents step up attacks against government and international forces. This violence is severely hampering humanitarian and development activities across much of the country
Insecurity is increasing across Afghanistan as insurgents step up attacks against government and international forces. This violence is severely hampering humanitarian and development activities across much of the country.
But WFP also faces another serious threat to its operations – rapidly dwindling funds and food stocks.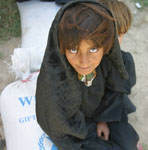 Without an extra US$31.1 million, the agency will be forced to scale back its activities in Afghanistan drastically in the second half of the 2006.
This presents WFP with a dreadful dilemma – which group of poor, hungry Afghans will have to suffer the cuts and the consequences?
Richard Lee looks at the possible scenarios.
Projects under threat: Food for Training
After two decades of war, hundreds of thousands of Afghans find themselves battling to fend for themselves and their families – with no education and few marketable skills.
The prospects are even bleaker for the poorest and most vulnerable Afghans – such as widows, people with disabilities and former child combatants.

Food for training
With a little assistance many can already look forward to a brighter future – thanks to WFP's food for training project which provides them with food while they train as tailors, weavers or carpenters.
But if the project is cut back, tens of thousands of potential beneficiaries will have to rely – yet again – on desperate and possibly dangerous means of survival.
For example, what might a former child combattant be forced to resort to – especially as the insurgents are always on the lookout for new recruits?
Food for Literacy
Another possibility is that the cuts will halt food assistance for the adult literacy campaign, which is teaching tens of thousands of men and women how to read and write.
While there have been some improvements over the past few years, Afghanistan's literacy levels are still among the worst in the world – at 43 percent for men and just 14 percent for women – dropping to one percent in some districts.

Food for literacy
Food aid encourages poor people to participate in the literacy classes, especially women with hungry children to feed.
But take away that aid and you take away a powerful incentive for people to learn to read and write in a country where education isn't an automatic right and where some groups see it as a threat and a literate population as a cause for concern.
Food for Work
Maybe the axe will fall on food for work projects? And would it really matter if it did?
That depends on whether you are living in a mountain village without a road or in a semi-desert community without clean water or a farming district without irrigation where some of the 630,000 intended beneficiaries live.

Food for work
Food for work helps poor communities in food-insecure areas build the assets they need, reducing the likelihood that they will need expensive emergency relief assistance the next time severe weather strikes.
It also boosts the development and reconstruction of the nation as a whole by improving infrastructure and agriculture – and by connecting communities.
Food for TB patients
Tuberculosis kills someone in Afghanistan every 20 minutes yet it is preventable and the drugs are readily available.
But there is one significant catch – how to ensure that patients, particularly the poorest, complete the arduous eight-month course of treatment?
A proven and powerful incentive to keep on coming to the clinic is a monthly family food aid ration.

Food for TB
"If they were not giving out food here, why would I need to come back?" says Najiba Abdullah, who started feeling better after a month of treatment. "I keep coming to get food to feed my eight children."
What if assistance were reduced or – in the worst case scenario – stopped altogether?
Clearly, many of WFP's 30,000 TB beneficiaries – such as Najiba – would drop-out.
This would expose them to the possibility of contracting the incurable, drug-resistant strain of the disease – and increase the likelihood that their names will be added to the list of 26,000 Afghans who already die from TB each year.
Food for Emergencies
Every year, around 400,000 Afghans are affected by natural disasters ranging from floods to droughts to extreme snowstorms.

Food for emergencies
Until now, a sizeable contingency stock has allowed emergency relief operations to be mounted swiftly and successfully – ensuring that the worst-affected communities have sufficient supplies to survive.
But without food supplies there can be no contingency food stocks.
We'll just have to hope that mother nature is kinder than usual to Afghanistan and its people over the coming months.
Food for Winterisation
Even in a mild year, Afghanistan's winter is pretty fierce – cutting off communities in a mountainous swathe across the country.
To counteract this, WFP plans to pre-position around 25,000-30,000 tonnes of vital food aid supplies in remote areas ahead of the worst winter weather.
But this now seems unlikely because the window of opportunity is closing fast since commodities must arrive in Afghanistan by mid-July at the latest.
Indeed, cutting the winterisation project is likely to be one of WFP's easier decisions – not because it is a low priority project but simply because there will be no food to pre-position.
Unfortunately, this will leave tens of thousands of poor and hungry Afghan families with no hope of assistance until the snows begin to melt in spring.
Food for thought
But perhaps WFP will not have to take these terrible decisions and will not have to choose between one group of vulnerable Afghans and another.
Perhaps enough donations will be received to cut WFP's huge funding gap – and ensure that the agency can provide aid to all 3.5 million needy Afghans this year.
That would be the kindest cut of all.