Tens of thousands of people have taken to the streets in hundreds of cities worldwide to vote with their feet in support of WFP's 2007 Fight Hunger: Walk the World campaign. Follow the day's events around the clock through our newsblog.
Walk the World 2007
Tens of thousands of people have taken to the streets in hundreds of cities worldwide to vote with their feet in support of WFP's 2007 Fight Hunger: Walk the World campaign.
WFP together with its major corporate partners, TNTand Unilever, are teaming up with an array of celebrities, dignitaries, employees, NGO partners or just family and friends to walk together over a 24-hour period. Their message: hunger has no place in this world and citizens across the globe can put an end to it.
Funds raised through Walk the World will go to WFP's Global School Feeding Programme. Visit the official Fighthunger campaign site to make a donation.
Follow the day's events around the clock through our newsblog or visit the official Fighthunger campaign site.
Sao Paolo, Brazil
Pope Benedict XVI has singled out Walk the World for special mention during a speech at the end of his five-day tour of Brazil.
Speaking at a conference in Sao Paolo, the Pope said: "I remember in a special way those brothers and sisters who suffer from hunger. In this regard I want to mention the Walk against Hunger promoted by the World Food Programme, the United Nations agency responsible for food assistance. This initiative is taking place today in many cities worldwide."
Rotterdam, the Netherlands
Two of WFP's major corporate partners have expressed their joint support for the Walk the World event.
Speaking in Rotterdam, where most walkers were employees of either TNT or Unilever, TNT's Chief Executive Peter Bakker said he was looking forward to another great event.
Unilever Director for Europe Kees van der Graaf expressed his belief in the Walk the World partnership to put an end to child hunger.
Mbabane stadium, Swaziland
The King of Swaziland has marked his historic participation in Walk the World 2007 by performing a traditional dance with his country's Chiefs at the Mbabane stadium.
Earlier, some 3,000 people had turned out to walk with their King, Prime Minister, members of parliament, key leaders of the local business community and UN representatives.
Corporate sponsors, including banks and energy companies, underlined their support for the event by guaranteeing free access to water to all those who walked. Other sponsors pledged donations to WFP school feeding programmes.
Dar El Salaam, Tanzania
Over 8,000 people have marched under the Fight Hunger banner in Tanzania, with 6,500 people walking in Dodoma and a further 2,000 walkers braving heavy rains in Dar El Salaam. Four smaller walks were held in the west of Tanzania, home to WFP's refugee operations.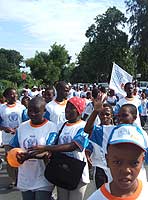 Watched by the Prime Minster of Tanzania, more than 300 school children started the walk in Dodoma by singing two specially composed songs -- a reminder of the day's main objective, raising awareness of child hunger.
Participants in the Dar El Salaam event included the Brazilian coach of Tanzania's national soccer team, the local 'child hunger ambassador' Reginald Mengi and Miss Tanzania.
Lombok island, Indonesia
In Indonesia, record-breaking, long-distance swimmer Monte Monfore has made sure Walk the World 2007 covers water as well as land by swimming from Lombok to Gili Tranwangan Island.
In the two-and-a-half hours I was swimming, roughly 2000 children died.

Monte Monfore, FightHunger Champion
The endurance athlete fought against strong five knot currents and jellyfish stings to complete his seven-kilometre Lombok Fight Hunger Swim in two hours, 10 minutes.
"I've had some difficult swims before, but this was the toughest by far. There were times I didn't think I was going to make it," said Monty, who supported last year's Walk the World by swimming across the four-kilometre Bali Strait and back again.
Despite his exhaustion, Monte ensured that his record-breaking feat did not overshadow the day's main message.
"This swim is about something very serious. The statistics on hunger are shocking. Every five seconds somewhere in the world a child dies because of lack of food," Monte told spectators, "This means that in the two-and-a-half hours I was swimming roughly 2000 children died. And while you were sleeping last night another 6000 children died."
Learn more about Monte's feat at the Fight Hunger website
Guarulhos, Brazil
Thousands of walkers launched Walk the World 24 hours ahead of schedule with a march through the packed streets of Guarulhos, the second largest city in Sao Paolo state.
The Secretary of Education for Brazil, the Mayor and Vice-Mayor of Guarulhos, together with the Chief Counsel to the Minister of Foreign Affairs and other dignitaries, used the event to pledge their support to the Zero Hunger Project -- an initiative launched by Brazilian President Luiz Inàzio Lula da Silva in 2003 and designed to eradicate hunger and malnutrition throughout the world.