AECID and 10 Spanish Regions contribute 4.25 million euros to save lives and support development through the United Nations World Food Programme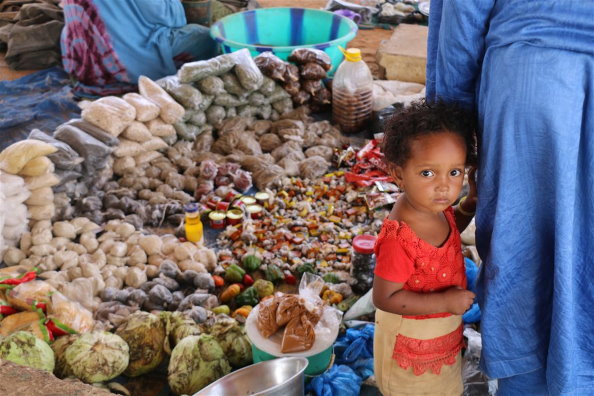 MADRID – The United Nations World Food Programme thanks the Spanish Agency for International Development (AECID) and 10 Spanish regions for contributing 4.25 million euros to provide critical humanitarian and development assistance to people affected by disasters and conflict in 2019. The funding will support food assistance for vulnerable populations, humanitarian logistics in the Sahel and disaster preparedness in the Caribbean.
The funding will help WFP to provide much needed food assistance to Sahrawi refugees in Tindouf (Algeria) and vulnerable people in Mali, Mauritania, North-East Nigeria and Palestine who suffer the consequences of conflict. AECID and the 10 regions provided also emergency funding to support victims of cyclone Idai in Mozambique in 2019.
In light of increasing disaster risk as a result of climate change, AECID is also supporting WFP's efforts to build capacity for disaster preparedness in the Caribbean, in a key effort to strengthen the Caribbean Disaster Emergency Management Agency (CDEMA) and the operational capacity of countries to prepare for and respond to emergencies. AECID re-engages with WFP in the Latin America and the Caribbean region with this grant, amounting 300,000 euros.
"We are grateful for the consistent support from AECID and Spanish regions" said Chris Kaye, WFP Director for Public Partnerships and Resourcing Division. "We particularly welcome AECID's engagement with WFP in the Caribbean for disaster preparedness, a new area of collaboration to expand our long-standing partnership."
The Sahrawi refugees in Algeria received the largest share of the AECID funding in 2019 with 1.3 million euros devoted to the monthly food distributions that WFP provides in the Tindouf camps. The regions of Asturias, Baleares, Canarias, Cantabria, Castilla-León, Comunidad Valenciana, Galicia, La Rioja, Madrid and Murcia, contributed an additional 500.000 euros in support of Sahrawi refugees through an agreement involving also the Spanish Federation of Municipalities and Provinces.
Spain's donations also continue to support the Sahel, a region of great concern for WFP, where conflict, insecurity, and drought have pushed millions into food insecurity. Vulnerable Malian populations receive food assistance and nutrition support thanks to Spanish contributions both inside Mali (400,000 euros) and in neighbouring Mauritania (300,000 euros), where WFP assists Malian refugees.
In North-East Nigeria, an area facing a major humanitarian emergency, AECID has contributed 500,000 euros to build resilience of smallholder farmers on the Lake Chad basin in Borno State, an area suffering the impact of conflict with Boko Haram.
Spain continues to be an important source of support for Palestinians in Gaza, where WFP provides food assistance to non-refugee populations. A contribution of 400,000 euros will enable more than 33,000 people to purchase food in local markets using WFP e-vouchers.
In Mozambique, AECID and the 10 regions provided 250,000 euros for emergency food assistance after the Idai cyclone hit the country, providing vital support to affected populations in the provinces of Sofala, Zambezia y Manica
Spain is a regular donor to WFP's logistics services for the wider humanitarian community. In 2019, AECID supported the operations of the Humanitarian Air Service (UNHAS) in Mali, Mauritania and Niger, providing 100,000 euros of support for each country. UNHAS facilitates access to remote locations for staff from the United Nations, NGOs and other partners involved in humanitarian and development work.
                                         #                           #                            #
The United Nations World Food Programme is the world's largest humanitarian organization, saving lives in emergencies, building prosperity and supporting a sustainable future for people recovering from conflict, disasters and the impact of climate change.
Follow us on Twitter @WFP_es, @WFP_media