Governance and leadership
The World Food Programme (WFP) is governed by the WFP Executive Board, which consists of 36 Member States and provides intergovernmental support, direction and supervision of WFP's activities.
The organization is headed by an Executive Director, who is appointed jointly by the UN Secretary-General and the Director-General of the Food and Agriculture Organization of the United Nations. The Executive Director is appointed for fixed five-year terms and is responsible for the administration of the organization as well as the implementation of its programmes, projects and other activities. Since April 2023, the post has been held by Cindy McCain.
WFP also has one Deputy Executive Director and four Assistant Executive Directors with specific briefs.
The organization's direction is mapped out in its Strategic Plan, which is renewed every four years. The 2022–25 Strategic Plan lays out WFP 's commitment to the 2030 Agenda, focusing on ending hunger, and the support the organization gives to the United Nations' efforts to help countries respond to the urgent needs of those furthest behind and achieve the Sustainable Development Goals.
WFP relies entirely on voluntary contributions for its funding. Its principal donors are governments, but the organization also receive donations from the private sector and individuals. 
Executive Board
The Executive Board is WFP's supreme governing body. Comprising 36 States Members of the UN or Member Nations of the Food and Agriculture Organization (FAO), the Board provides intergovernmental support, policy direction and supervision of the activities of WFP.
Go to site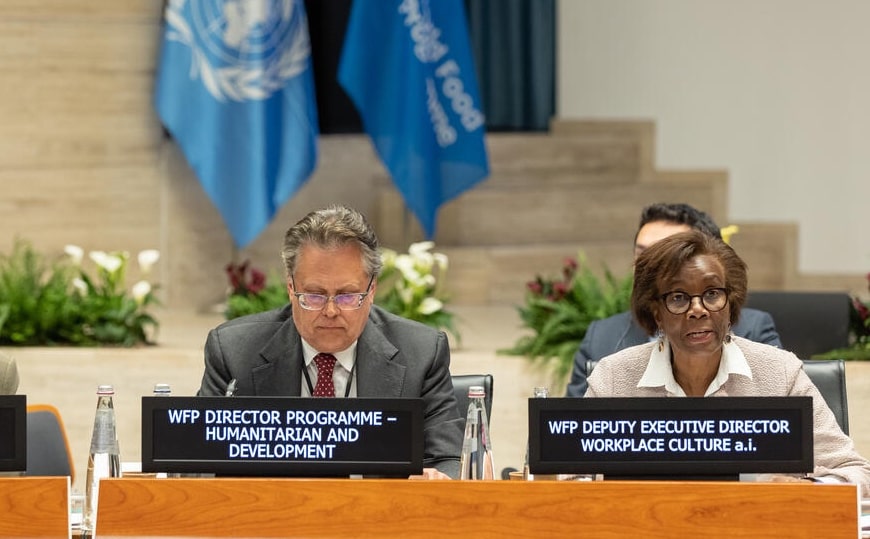 Senior leadership
Cindy McCain - Executive Director

Meghan Latcovich - Chief of Staff

Carl Skau - Deputy Executive Director and Chief Operating Officer

Laurent Bukera - Assistant Executive Director and Chief Financial Officer

Valerie N. Guarnieri - Assistant Executive Director

Ute Klamert - Assistant Executive Director

Joyce Kanyangwa Luma - Assistant Executive Director
In focus