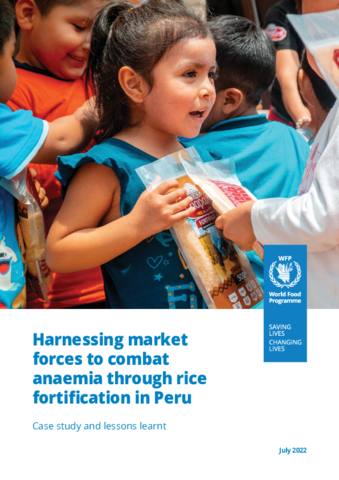 This case study presents lessons learnt from a regional success story in scaling up rice fortification through social assistance programmes in order to address micronutrient deficiencies
Efforts to scale up large-scale food fortification often start with advocating for a law that mandates the private sector to fortify. In Peru, the World Food Programme (WFP) supported the government with a novel approach: first create the demand by including fortified rice in social assistance programmes that serve millions, then support the private sector to respond to this new market with increased supply.
Following this strategy, in less than four years more than 150 rice millers applied for certification to produce fortified rice, and by 2022 over 3 million people were receiving fortified rice through social assistance programmes. The increased capacity of the private sector, predictable demand created a favourable environment to introduce a mandatory fortification law, which was passed in 2021.
This brief presents lessons learnt from this regional success story in scaling up rice fortification to address micronutrient deficiencies, particularly iron-deficiency anaemia. Documenting these insights aims to inform fortification efforts in other countries and contribute to the global evidence base on food fortification as a strategy to combat micronutrient malnutrition.