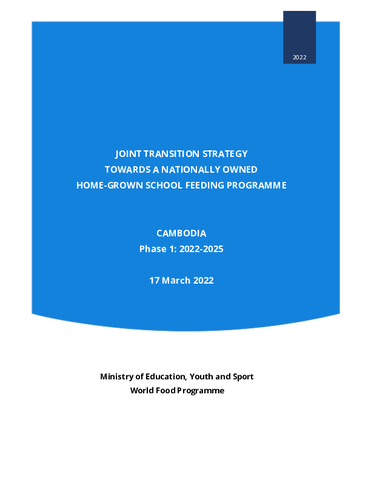 The Joint School Feeding Transition Strategy outlines the initial phase of handover of school feeding implementation and management from WFP to the Ministry of Education, Youth and Sports of Cambodia.

The summary 30-word introduction is displayed on the listing page and on search results. We encourage you to use this field to give users more information on the item before they open it. The summary text also appears on the publication page, at the top, in italics.

In 2020, the Royal Government of Cambodia started to take over the provision of school meals from WFP. In 2022, the national programme provides meals to schoolchildren in 290 schools and aims to grow incrementally to achieve full national ownership by 2028, while receiving appropriate national, sub-national and school-level capacity transfer from WFP to implement the programme.
The Joint School Feeding Transition Strategy outlines the initial phase of handover of school feeding implementation and management from WFP to the Ministry of Education, Youth and Sports of Cambodia