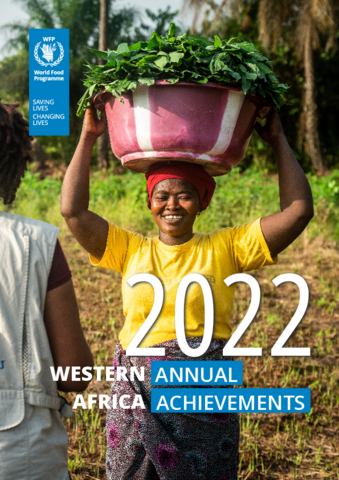 In 2022, WFP overcame obstacles to support 20 countries' Sustainable Development Goals, to save lives and change lives of 21.4 million people in Western Africa
This comprehensive report showcases WFP's commitment towards saving lives and changing lives in Western Africa. While ensuring the timely delivery of life-saving assistance, WFP has also taken steps to strengthen the resilience of vulnerable households and communities against shocks and stressors.   
WFP's local, national, and regional presence has enabled the construction of meaningful partnerships with governments and communities, leading to effective solutions to food security and nutrition issues in Western Africa. With its integrated approach and operational expertise, WFP has been instrumental in providing humanitarian assistance, even in the most difficult and inaccessible areas marked by insecurity.  
Despite facing numerous challenges, such as conflicts, climate-related issues, and global supply chain disruptions, WFP remained steadfast in aligning its support with the Sustainable Development Goals of twenty countries in the region. In 2022, WFP was able to assist 21.4 million individuals through food, cash, and capacity-strengthening.