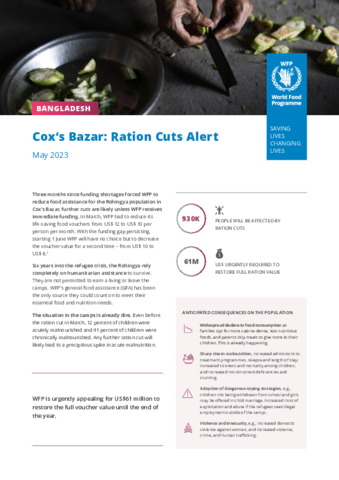 Three months since funding shortages forced WFP to reduce food assistance for the Rohingya population in Cox's Bazar, further cuts are likely unless WFP receives immediate funding.
In March, WFP had to reduce its life-saving food vouchers from US$ 12 to US$ 10 per person per month. With the funding gap persisting, starting 1 June WFP will have no choice but to decrease the voucher value for a second time – from US$ 10 to US$ 8.
Six years into the refugee crisis, the Rohingya rely completely on humanitarian assistance to survive. They are not permitted to earn a living or leave the camps. WFP's general food assistance (GFA) has been the only source they could count on to meet their essential food and nutrition needs.
The situation in the camps is already dire.  Even before the ration cut in March, 12 percent of children were acutely malnourished and 41 percent of children were chronically malnourished. Any further ration cut will likely lead to a precipitous spike in acute malnutrition.